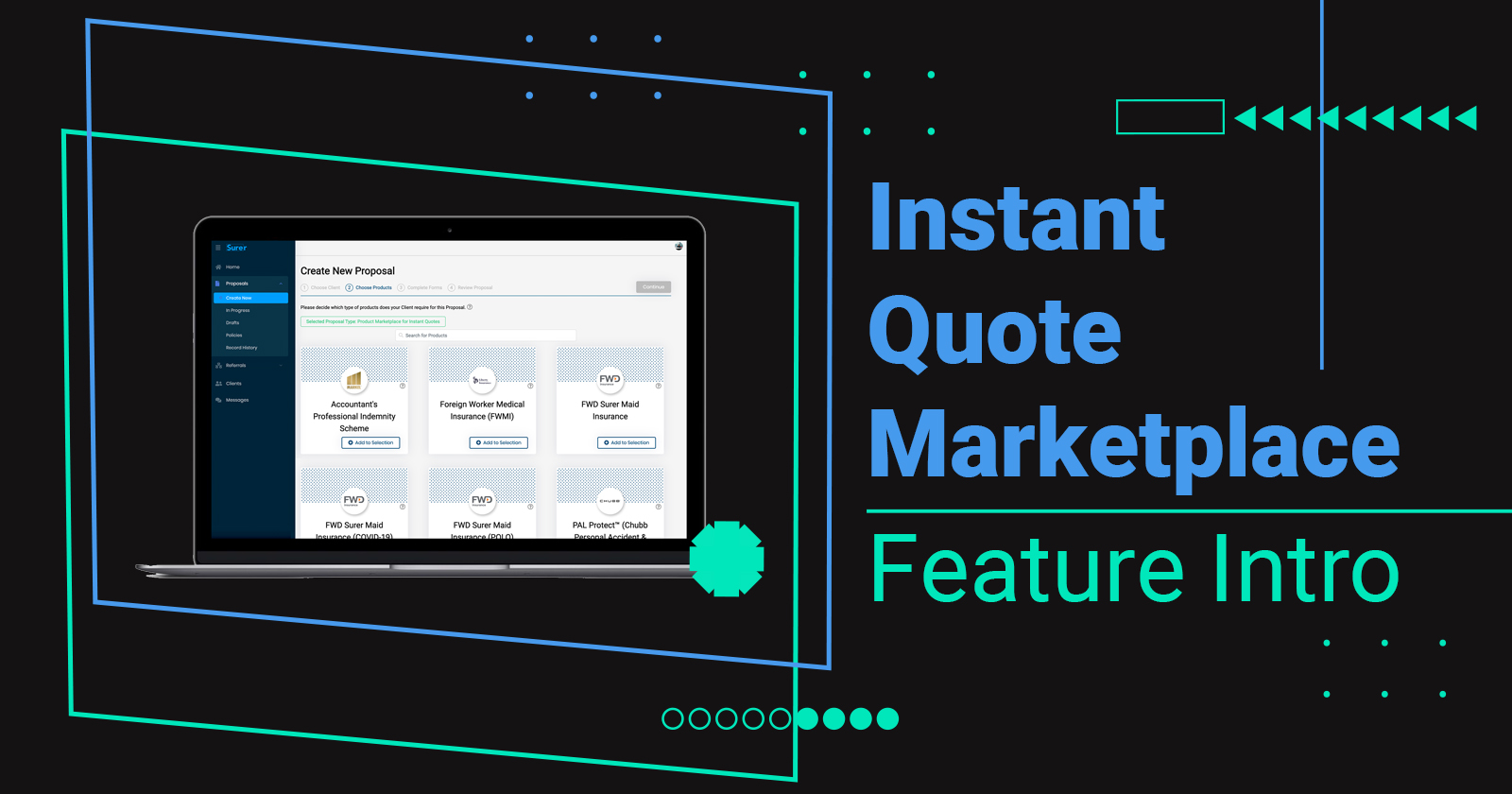 The Instant Quote Marketplace is one of our most popular features!
For those who are hearing this for the first time, essentially, what we are solving for with this feature is "The workflow to get multiple quotations is super tedious. Sometimes I don't even get a response from my insurer fast enough." as one of our user research interviewees shared.
Getting quotes in second
How this works is similar to creating a proposal and sending it out to your underwriter EXCEPT that you DON'T have to.
What we mean is that instead of sending this to a physical underwriter, we have partnered up with insurers including the likes of DirectAsia, Etiqa, FWD, Markel, Zurich and more to automate the quotation process such that you get them instantaneously!
Other benefits of getting quotes from Surer is that 
Close a deal on 1 platform
Getting the quotation is one thing. Surer allows you to share the quotes and close the deal directly with your clients and insurer(s) as well.
Give clients more options
Found a product by an insurer that you do not represent but serves your client's needs perfectly? Seamlessly refer your client to another insurer's representative!
Plugged in to all the tracking functionalities you love
In getting a quote on Surer, we automate the whole process of tracking status of a deal, enabling your Digital Personal Assistant to prompt you on outstanding tasks and actions. You can even conduct KYC with the form from the selected Instant Quote product(s)!
After selecting a client, users can then choose to check out our instant quote marketplace where they will see a suite of products with instant quotation functionalities. Once the proposal has been completed, a quote is generated within seconds!
Shortlist this quote to share with your clients digitally via a link automatically generated for you, run the quotation through your client, they accept the quote and you are on your way to close the deal – we've been told a full deal can be closed in as fast as 10 minutes! 
Here's a short video demo of how this feature works!
Like what you see? 
SIGN UP FOR FREE NOW and start getting quotes in seconds now!
Are you an Insurance intermediary? Sign up for free now!
It is fuss-free. No credit card or payment required.
SIGN UP NOW
Subscribe to our Telegram channel to get the most insightful articles delivered to you automatically!
Join Telegram