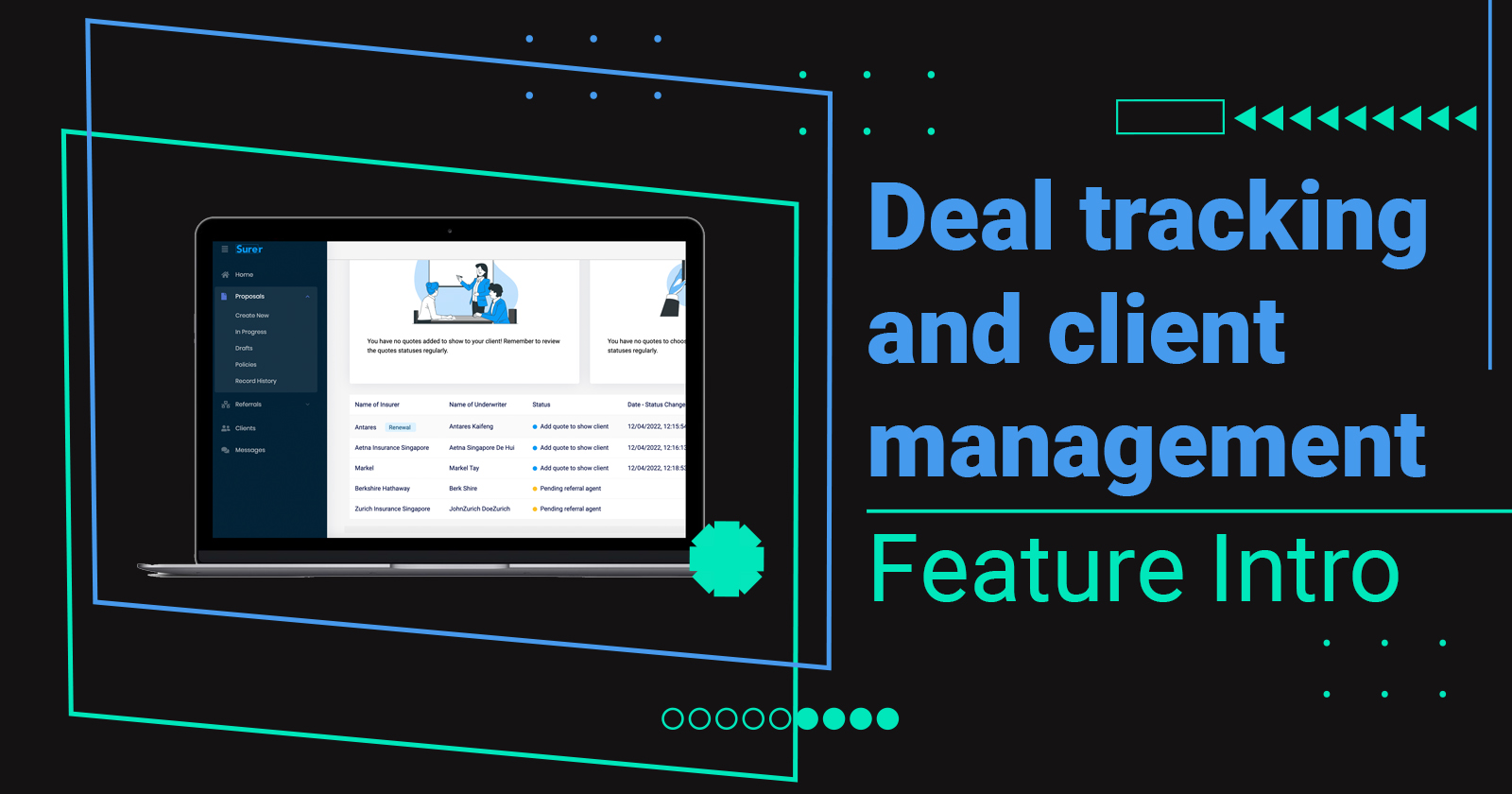 One of the problems intermediaries we spoke to shared with us was having to go back to their spreadsheet to update and check status of a deal or to access information regarding a client and their policies. 
Proposal tracking, policy storage, renewal reminder and records
Every proposal created on Surer will be supercharged with full-scale automation in deal tracking, policy storage and renewal reminder.
Deal tracking is done, right from the get-go when you create a proposal via Surer, all the way to when a quote is received, a deal is completed and policies are generated. 
So how is this done you ask. Here's an overview:
Proposal progress tracking
Have overview of the different stages of a deal, from proposal being sent to an insurer, a quote received, a quote shortlisted to be shared with client, a quote being accepted by a client – just one look at the status column of a particular deal and you'd know!
Policy storage and renewal reminder
Store policy documents as attachments to a particular deal you have closed via Surer and also have the flexibility to set up your renewal reminders and payment collection details; after which, you will receive reminder notifications via your digital personal assistant!
Records
Have a full view of what transpired in a particular insurance deal via this 'Records' feature; get access to view who had previously quoted, the price etc. here! You will also be able to add notes relating to this particular deal.
Video demo of how this works
Here's a video demo of how this whole process works from start to finish!
Client Management
We understand how intermediaries usually have multiple clients who fall within the same family or company. 
What we have done is to allow you to group all clients you have created in your database on Surer in various groups so you never have to worry about missing out on the various relationships each of your clients have with each other!
In the screenshot below, you'd see how family and company groups are created as 'group cards'.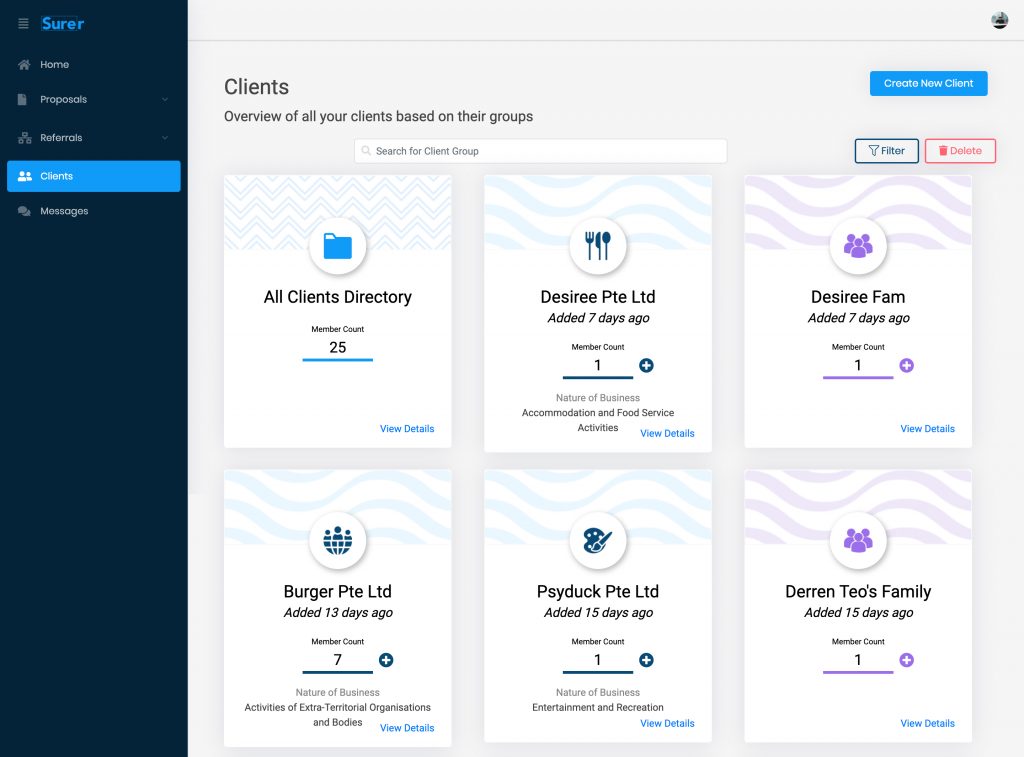 The screenshot below shows all the clients that have been included in one of these 'group cards' with their relationship listed down as well!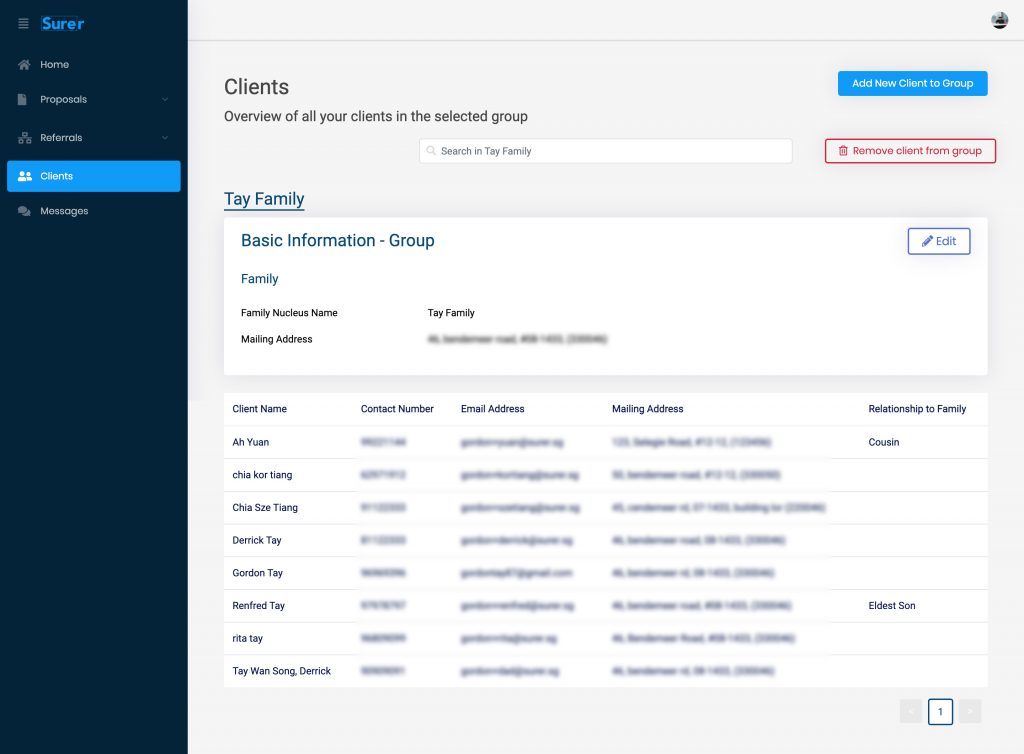 Like what you see? 
SIGN UP FOR FREE NOW to start doing deals and stop worrying about administrative blockers!
Are you an Insurance intermediary? Sign up for free now!
It is fuss-free. No credit card or payment required.
SIGN UP NOW
Subscribe to our Telegram channel to get the most insightful articles delivered to you automatically!
Join Telegram