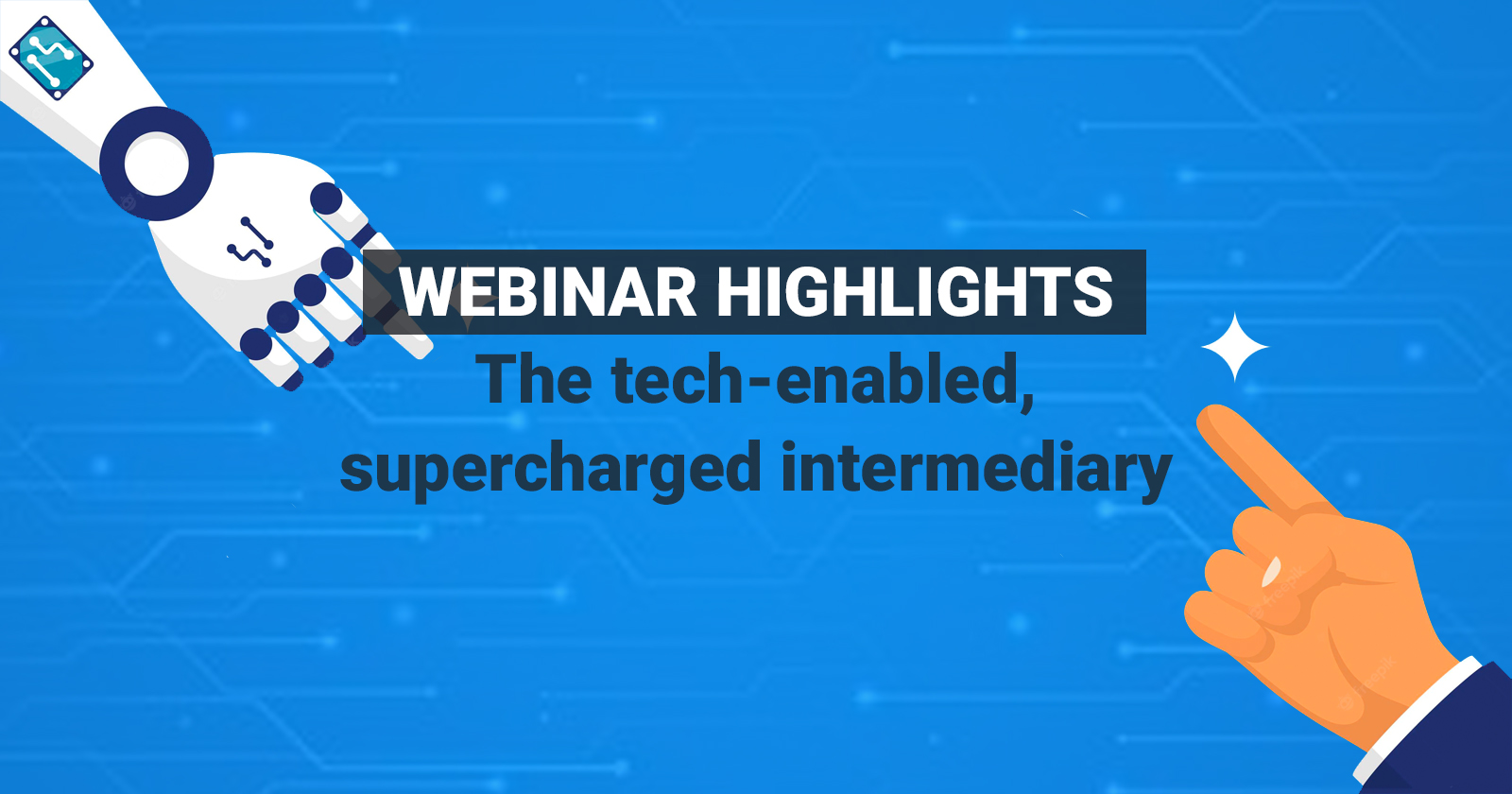 Thank you to everyone who attended this webinar! As always, fret not if you missed out on this webinar. This article will highlight some of the key insights shared at the webinar. 
Key highlights
With the theme of the webinar being ' The tech-enabled, supercharged intermediary', we broke the webinar down into three key segments:
Embracing Digital Transformation
Asking the right questions and using tech to find solutions
Blending the best of both worlds – Tech and the Human Advisor
It was shared that the above three segments are matched back to a deal-closing funnel, from lead generation, to qualification and finally closing.
Embracing Digital Transformation 
The seminar started with a sharing of some pain points that team at Surer had identified:
84% of intermediaries said they want to source for more quotes for clients but the process is too tedious to do so.
71% said they have problems tracking and managing their deals efficiently (close to 100% are using either spreadsheet or their emails)
56% said they have experienced communication breakdown or lost threads with key parties in a deal before
92% said they forgot to either inform or update underwriters or intermediaries of matters that are important (deal closed, gotten a quote etc.)
62% said it is hard to be an expert in every single area of a broad spectrum like GI
91% feels they are working in silos and collaboration amongst intermediaries is important
Understanding the problem to be solved is as important as providing the solution – this helped shed light on where digital transformation can play a role as a solution.
The topic then shifted on the practicalities of getting going with digital transformation, starting with embracing ways to better market oneself and specifically, through content creation.
In terms of content creation, we shared that it should not be something that intermediaries should fear or think of as 'I am not an expert in content creation – how?' Rather, intermediaries already have very key knowledge and experience in the space and sharing any of these WOULD BE good content.
The key points shared on this front:
Channels to consider
Channels you can use are already at your disposal! As long as this channel allows you to write, a url is generated when posted and can easily be shared… you are good to go! FB, Linkedin posts (like literally the post itself) or even a google drive collection of doc or pdf!
Picking the right 'style'
There are various styles of content like The "How-To" Post, The listicle type post, Thought-leadership post and Newsjacking
Continuous engagement
Value of content creation is a long-tail one. It might not be immediately relevant to the recipient today but actively and continuously engaging them with different topics gives you that chance to one day hit them when they need it the most. When the time comes when they need your service or have a friend who is asking them for recommendations, that you will come top-of-mind.
Moving on, we shared how content creation was just one part of things. Being able engage your customers at the right time for the right information is as important – this led to the topic on what is a CRM system and what it should do.

It was then shared that, specific to insurance intermediaries, a good CRM means…
Proposal tracking should be automated
A CRM for your business should help you be well aware of the status of a deal at any point. This does not mean furiously updating SPREADSHEETS. It should be a system that allows for automation in generating a 'case file'.
Keeping track of a deal at point of closing
Storage, performance, renewal
Digitalise policy file storage. Track your business and sales performance. Track premium collection status. Track and record anything peculiar about the deal. Easy renewal in future!
Asking the right questions and using tech to find solutions
The seminar switched gears to touch on 'what next once you get a lead'.
It was then shared that asking questions correctly allows an intermediary to not only find more opportunities but to also handle objections.
The importance of asking the right questions is essentially the same as the importance of being curious.
To give context, it was shared at the webinar that Surer started off its product building efforts by asking intermediaries questions about their pain points as well. It is only when you understand the problem, that you can start building solutions.
We then shared more about what the 'new age' intermediary will look like and why being curious is important:
The new age intermediary will ask more questions to understand a business/ client; he/she will then then supercharge themselves with technology to free up time to continue doing the above!
The new age intermediary will think of him/herself as an advisor to their clients and not a salesperson. Complications in processes is the least of their worries – advising their clients will always be a top priority
This part of things was then concluded that one of the key stats in a research done showed that >90% of clients feel a sales meeting is more valuable if you help them better understand their needs
We then shared why it is important to think like an advisor.
There are 4 types or stages of relationship
Stage 1: the order taker
Stage 2: the vendor
Stage 3: the value-add salesperson
Stage 4: the trusted advisor
At stage 4: 
The client views the you as an extension to his or her business
The client trusts your advice is all they need
They will have so much confidence in your advice that they are likely to go with your recommendations without further consulting anyone else.
Asking the right questions, helps you uncover needs of your clients and this was demonstrated with a couple of scenarios/examples:
Magic question 1: How willing are you to change?
Most powerful question – asking the client their propensity to change
Example:

For a client who already has an existing policy…

If the answer you get is a 'oh actually, it's best but at a lower price lah'; now you understand it is more a budget issue than a new set of requirements.

If the answer you get is a 'Yes. I don't think my existing policy can cover the 2 other new restaurants I intend to open…'; here you understand that the client's needs are driven by business expansion.
Magic question 2: What prompted you to start exploring?
This question goes deeper than 'what are your needs?'.
'What are your needs?' requires the client to  list what he thinks is good / suited
However, this might not actually be the best answer to get. 
What if the client has a lack of understanding of what the possibilities are?
By asking the client what prompted them to start exploring, you are essentially asking the client to explain the 'why' not the 'how' or 'what' – that is your job!
Magic questions 3 – 6: Targeted follow-up questions
Once you have 'opened the door', you can now jump into the nitty gritty or the details of what the client needs…

When you say 'cover' what do you imagine this to be?
Can you share the specifics of your business?
Do you have an example of what you have in mind?
What are some policies that you have come across that definitely did not suit you?

The whole point is to uncover needs: you need to get them to be as specific as possible about their needs by asking targeted follow-up questions
Asking the right questions also helps you handle objections
Besides uncovering needs, it was shared that questions can help handle objections as well. This was much to the surprise of many attendees.
We then shared some questions that can be used to handle timing objections:
Magic question 1: 'If money were no object, would you be willing to give it a try?'
If your clients were to say 'no' to this question, do remember to ask why.
This then gives you the opportunity to relook your suite of products/services and get back to your client with something that might be of a better fit.
If your prospect says "yes," it is an opportunity to dig deeper to discover what hurdles are standing in their way to determine whether or not you can accommodate.
Magic question 2: 'What are your other priorities right now?'
One of the most common reasons for timing objections is pretty straightforward – your client might have other bigger priorities in his/her life or business.
If you are able to get a full picture, you might have the opportunity to then offer other ways of helping.
This also opens the door for you to offer other products that match this priority.
The client might not always know what I want or need and so, will not spell it out to you in our discussions.
Magic question 3: "If I call you back in X weeks, will anything change?"
A response to this question could go two ways…
One, could be a literal, 'No. I am sorry.' Of which gives you the clarity to move on.
OR, it could be the client elaborating to you what kind of situation will be ideal for you to approach him/her again – this is valuable because it not only shows you what is taking up your client's mindspace but also the opportunity for you to show concern the next time you try to re-engage.
Blending the best of both worlds – Tech and the Human Advisor
We then went into the final segment of the seminar where we shared how the closing of a deal is still very much dependent on the intermediaries' advisory skills.
We started by sharing how technology cannot replace the human touch and shared some stats and reasons for this….
It was shared that especially in Commercial Insurance, In Europe 75% of complex insurance 'researched online, purchased offline' while In the US Intermediaries accounted for 70.8% of commercial premiums.
Diving deeper into this, we shared about key stats in a research where:
Majority (71%) of clients WANT to hear from a salesperson
82% of clients say they will take a meeting
67% of clients say tailored solutions will get them even more interested
>90% of clients feel a sales meeting is more valuable if you help them better understand their needs
We then shared a little about our perspective of why this could be the case – fear and optimism bias.
Optimism Bias:
Our brain is built to be optimistic as a default. We will first believe that that we are less likely to suffer from misfortune and more likely to attain success.
What has it to do with insurance?
One of the reasons why the industry always say 'insurance requires selling'
It is a built-in resistance to purchasing / or being motivated to purchase Insurance.
Fear:
The brain is trained to to be more afraid of what we can understand, rather than one that seems foreign or abstract
What has it to do with insurance?
So, how we fear or how we have learnt to 'prioritise' fear can explain some of the resistance some Insurance.
How I die seems to take higher priority over dying itself.
In general, technology will not be able to replace the 'spark' to get clients to think about insurance proactively – our brain is just not tuned to WANTING insurance
Moving on from the above, we then shared about how technology can help with digitalisation, automation and network collaboration, with tech, the intermediary of tomorrow can now
Increase their TQ (which will be as important as IQ and EQ)
Tech helps you do more by working less, drives your business faster and ultimately, empowers you to spend more time on more important matters.
Be an advisor not an order taker
Clients lean on you for expert advice; someone who has our best interest at heart. Intermediaries should not be bogged down by repetitive administrative matters.
Allows you to adopt a client-first mindset
A product or service aims to solve a problem for a client and the client in turn, pays for this product or service. So, your first instinct should always be 'how to solve my client's problem' not 'what I want this client to buy'
—
Once again, here's taking the opportunity to thank all our users who made time for this and we hope to see you again in our next Webinar!
Subscribe to our Telegram channel or stay tuned to our Facebook or LinkedIn pages to get updates on more of such initiatives!
Are you an Insurance intermediary? Sign up for free now!
It is fuss-free. No credit card or payment required.
SIGN UP NOW
Subscribe to our Telegram channel to get the most insightful articles delivered to you automatically!
Join Telegram