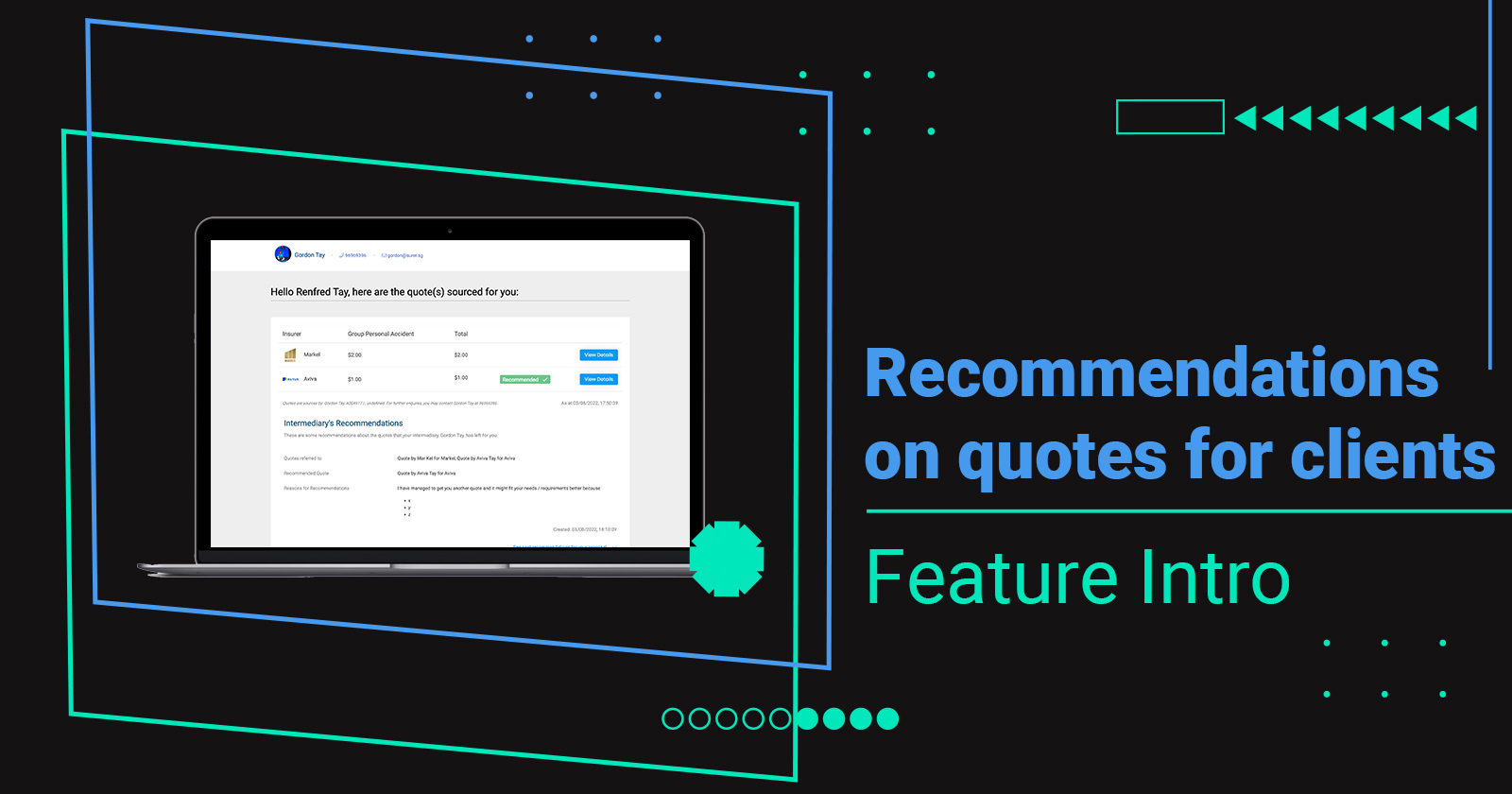 One of our most loved features is the ability for intermediaries to be able to digitally share a summary of all the different quotes they have gotten with their clients.
This feature has now received an upgrade!
Sharing quotes with clients digitally
Before we share more about the upgrade, and to provide context to those who are new to Surer, following is a quick run through of what we mean by 'sharing quotes with clients digitally':
When an intermediary receives a quote via Surer, they will be able to shortlist them to be compiled and shared with their clients
Once the intermediary is happy with the list of quotes they have received/shortlisted, they can generate a unique URL that they can share digitally with their clients
Clients will then be able to digitally access the list of quotes that the intermediary had gotten
Here's a screenshot of how this looks like for the client when they access the URL: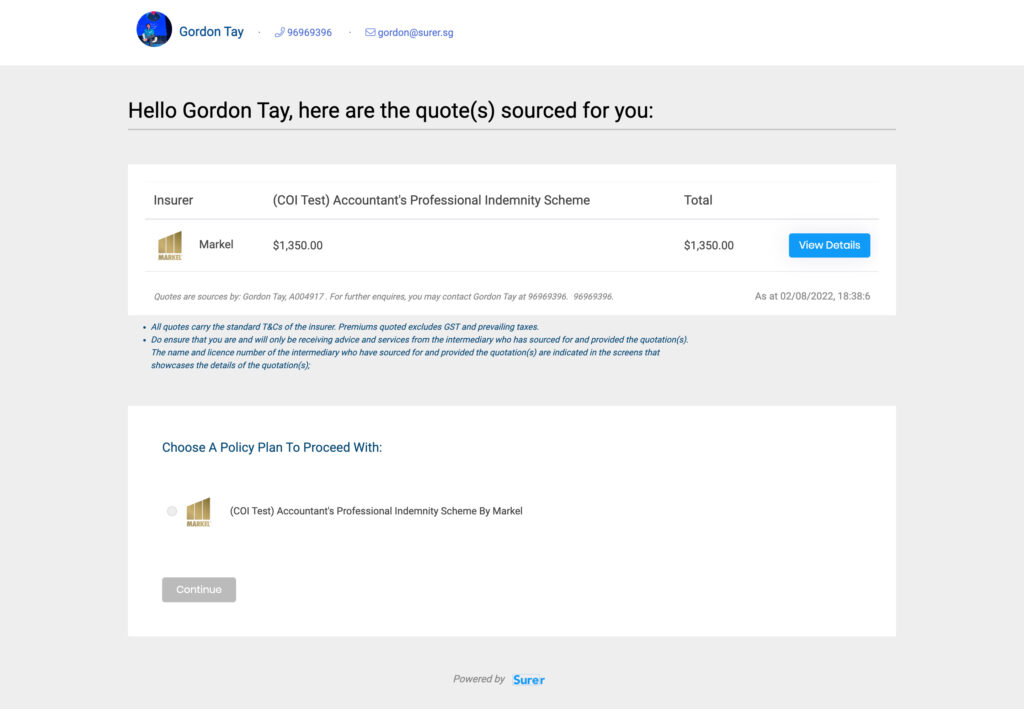 The client is able to view the quote that was sourced by the intermediary and also be able to click through to read full details.
Intermediaries using Surer have shared a couple of feedback on this feature
Pros:
Do not need to spend time organising and presenting different quotes into the same format
Able to update the shortlist of quotes at any time – clients will just have to access the same URL to have a look at the updates
Client is able to accept the quotes via this URL and intermediaries will be notified of the confirmation and proceed to close the deal 
Cons:
Not able to provide personalised recommendations
UPGRADE: Recommendations on quotes for clients
This upgrade is done in recognition of the feedback on how we can improve this feature!
Intermediaries are now able to add recommendations to the quotes that they shortlist to digitally share with their clients!
Following are some simple to follow steps on how to use the feature:
Step 1: Click on the quote you would like to shortlist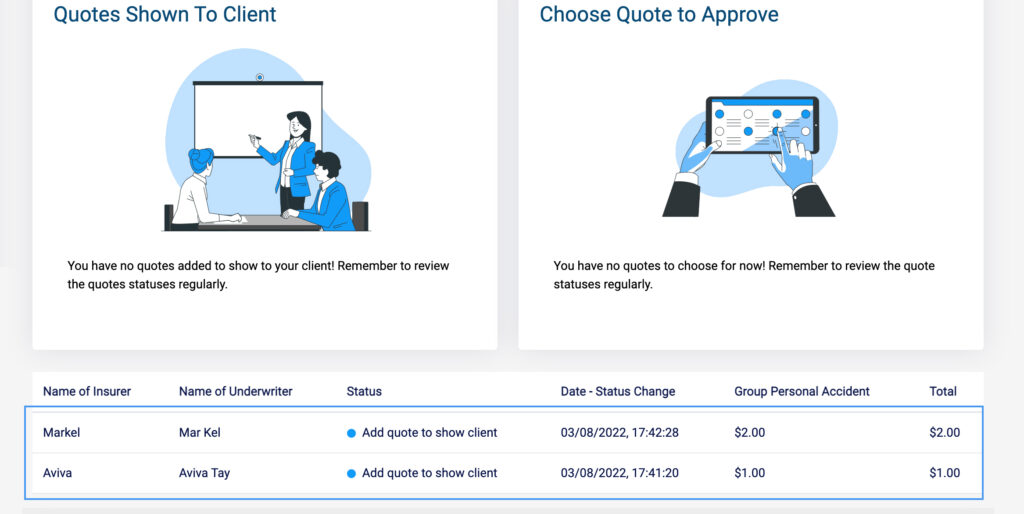 Step 2: Click on the 'Add to shortlist' button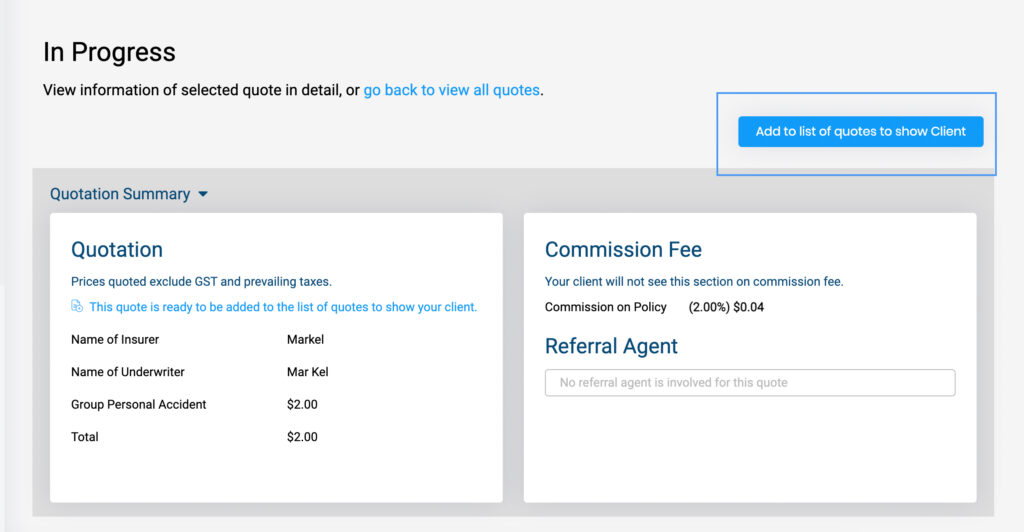 You have just successfully created a shortlist of quotes to be compiled and shared digitally with your clients.
Step 3: Click on 'add your Recommendations'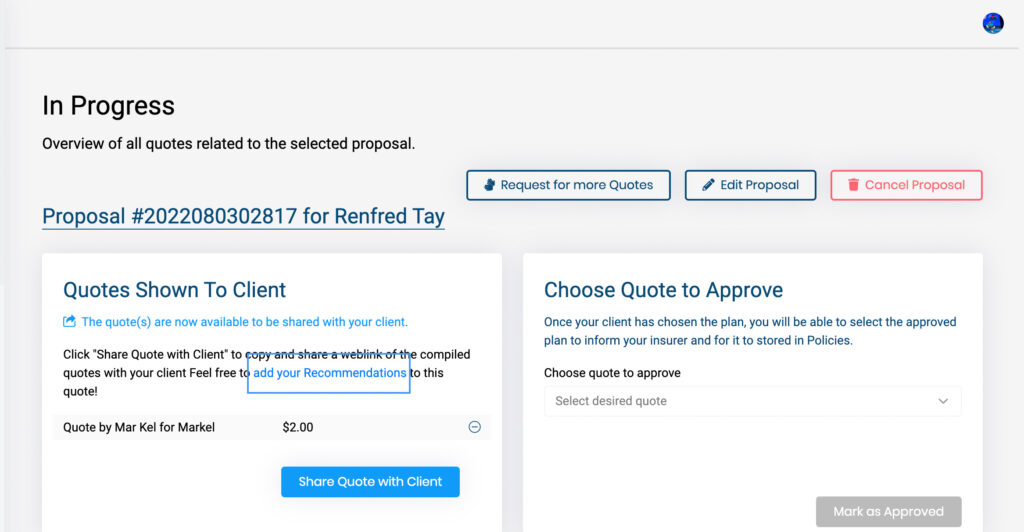 Step 4: You can choose to select a quote for recommendations and/or type out the reasons for your recommendations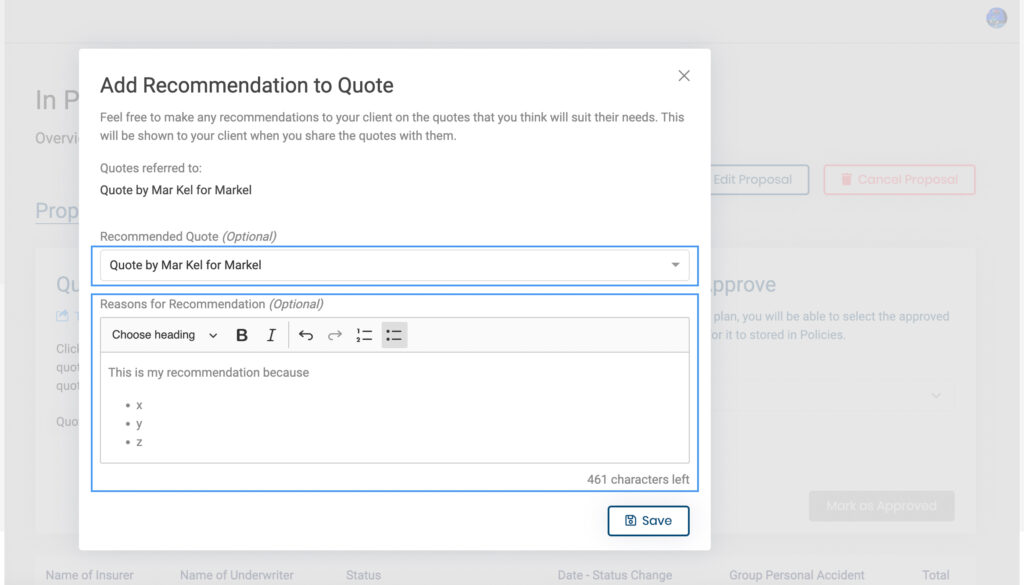 Step 5: Click on 'Share Quote with Client'
Here, you can choose to copy the auto generated URL and send it via any communication methods you prefer OR you can do so immediately via WhatsApp, Telegram or Email by clicking on the corresponding icons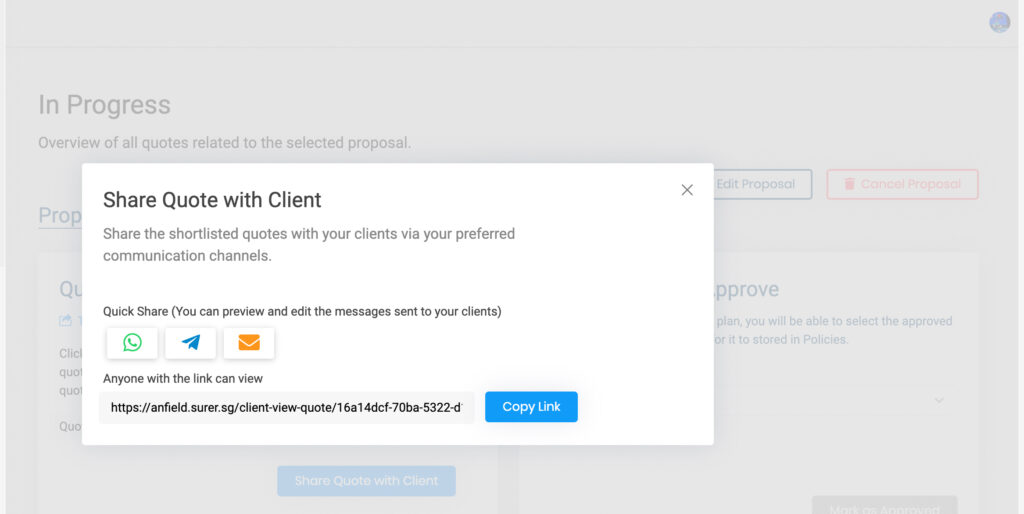 Step 6: This is the screen your client will see when they click on the URL you have shared with them!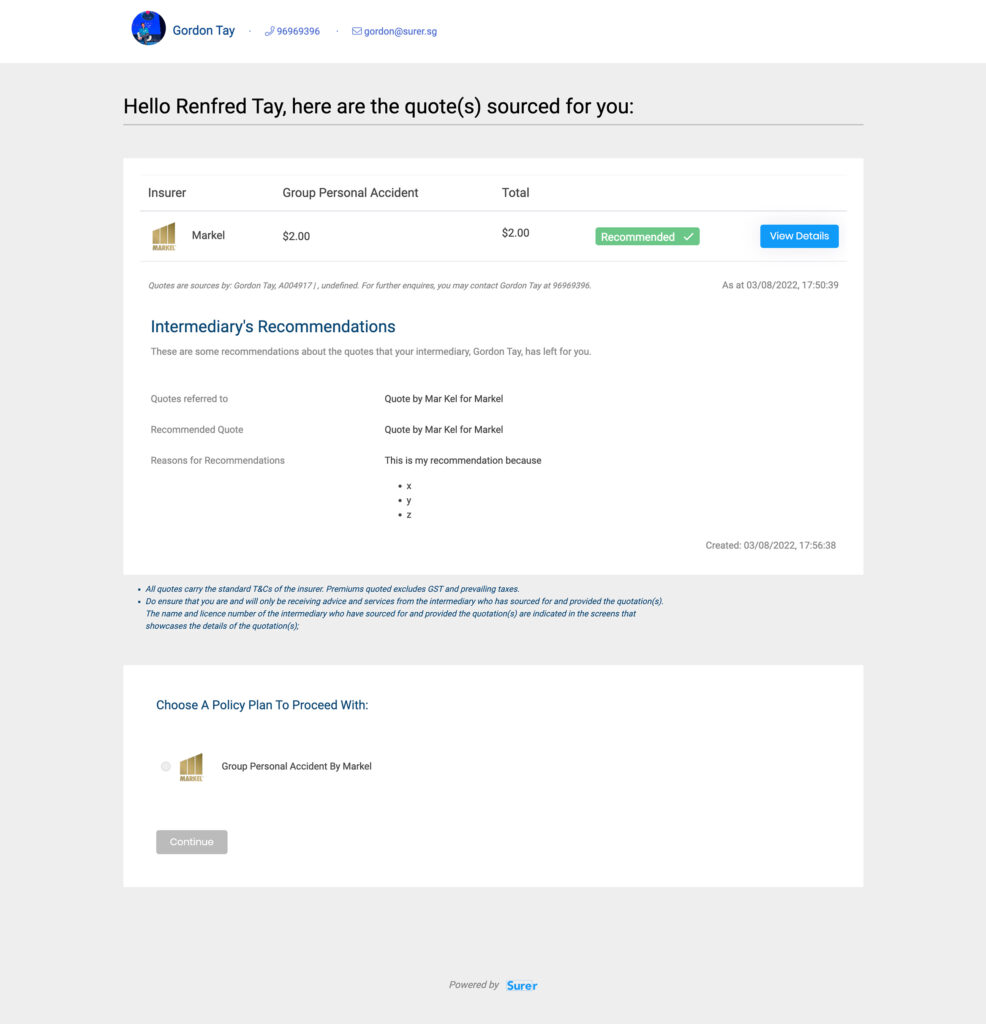 —
Editing a recommendation
If you realised you had made a mistake in your recommendation, you can choose to edit it via the edit button – this will activate a pop up for you to make changes to your initial recommendation.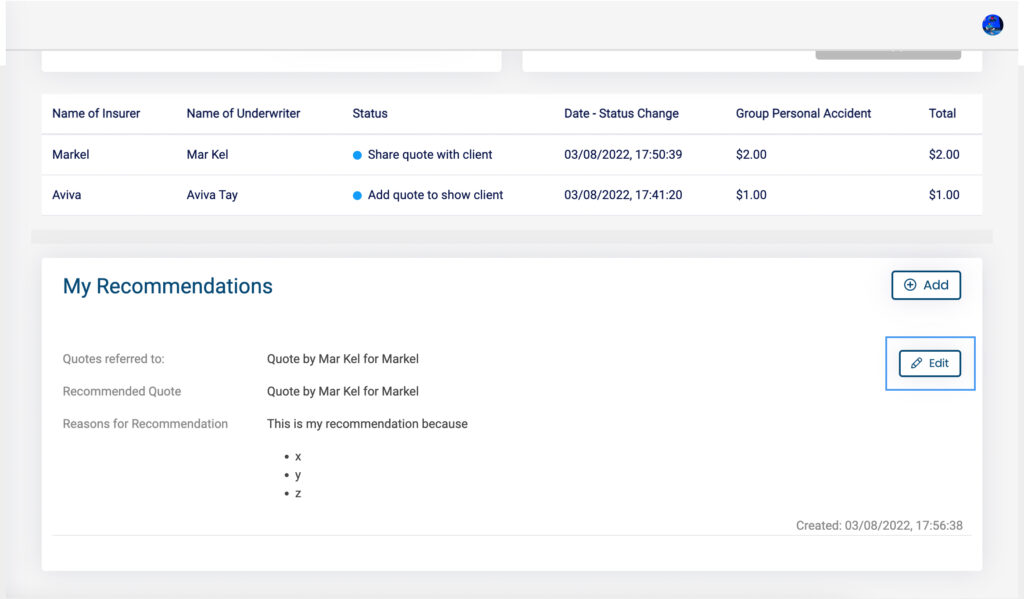 These changes will be reflected LIVE in the URL that you had shared with your client – no need for sending them another URL.
Adding a NEW recommendation
If you would like to ADD a NEW recommendation (in the case you added another quote to the shortlist that you previously haven't received for example), click on the 'Add' button and you can create a new recommendation.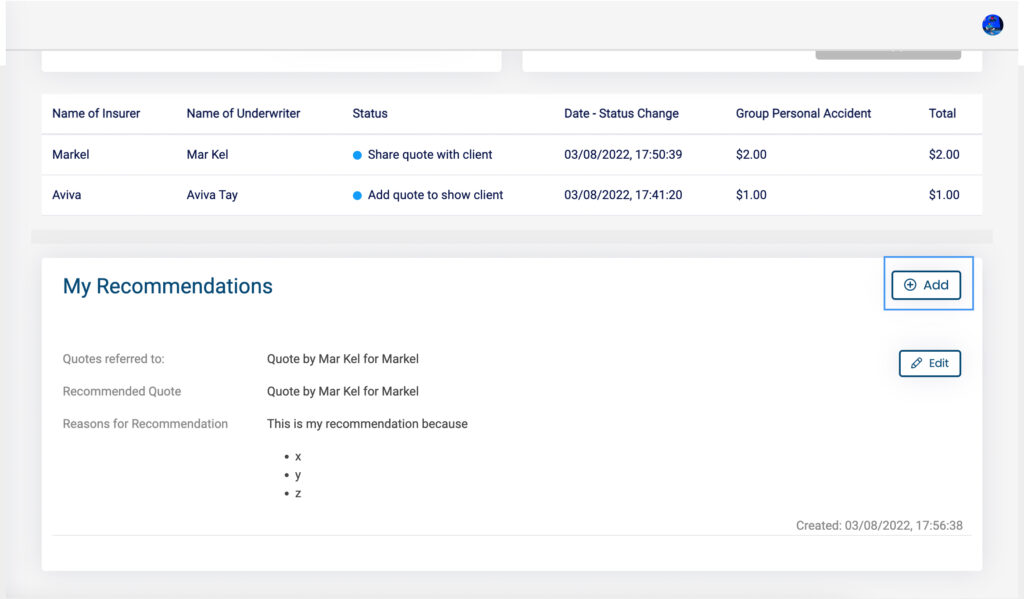 Recommendation history / trail
Note that this change will be reflected as a NEW recommendation – your client will now have an added function to view your history of recommendations since you now have created more than 1 recommendations.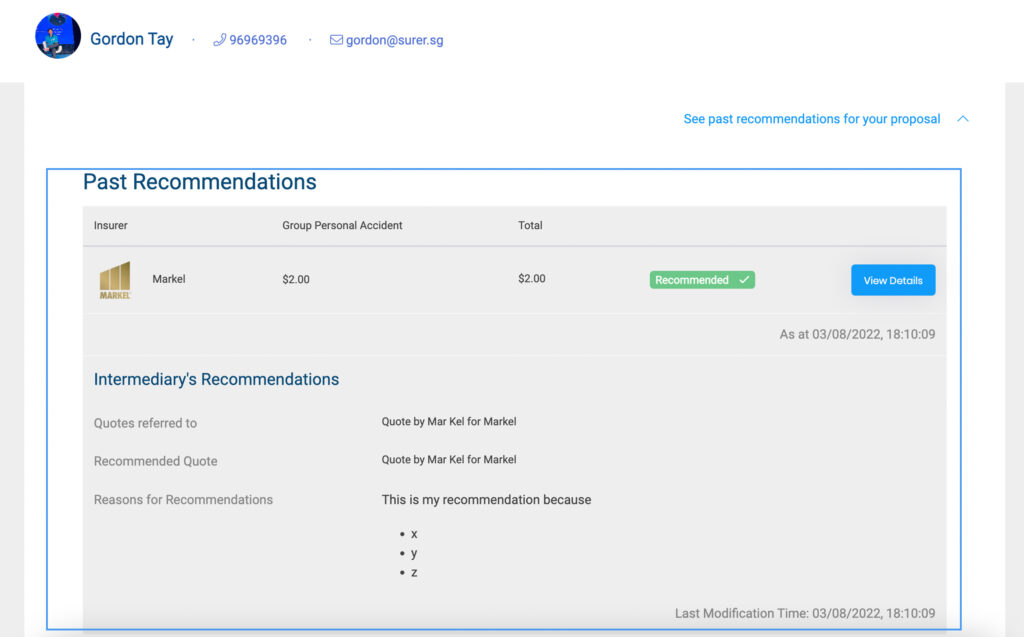 Here is a video tutorial on how to fully leverage this feature
Like what you see?  SIGN UP FOR FREE NOW and start driving even greater efficiency for you and your team's insurance business!
Are you an Insurance intermediary? Sign up for free now!
It is fuss-free. No credit card or payment required.
SIGN UP NOW
Subscribe to our Telegram channel to get the most insightful articles delivered to you automatically!
Join Telegram