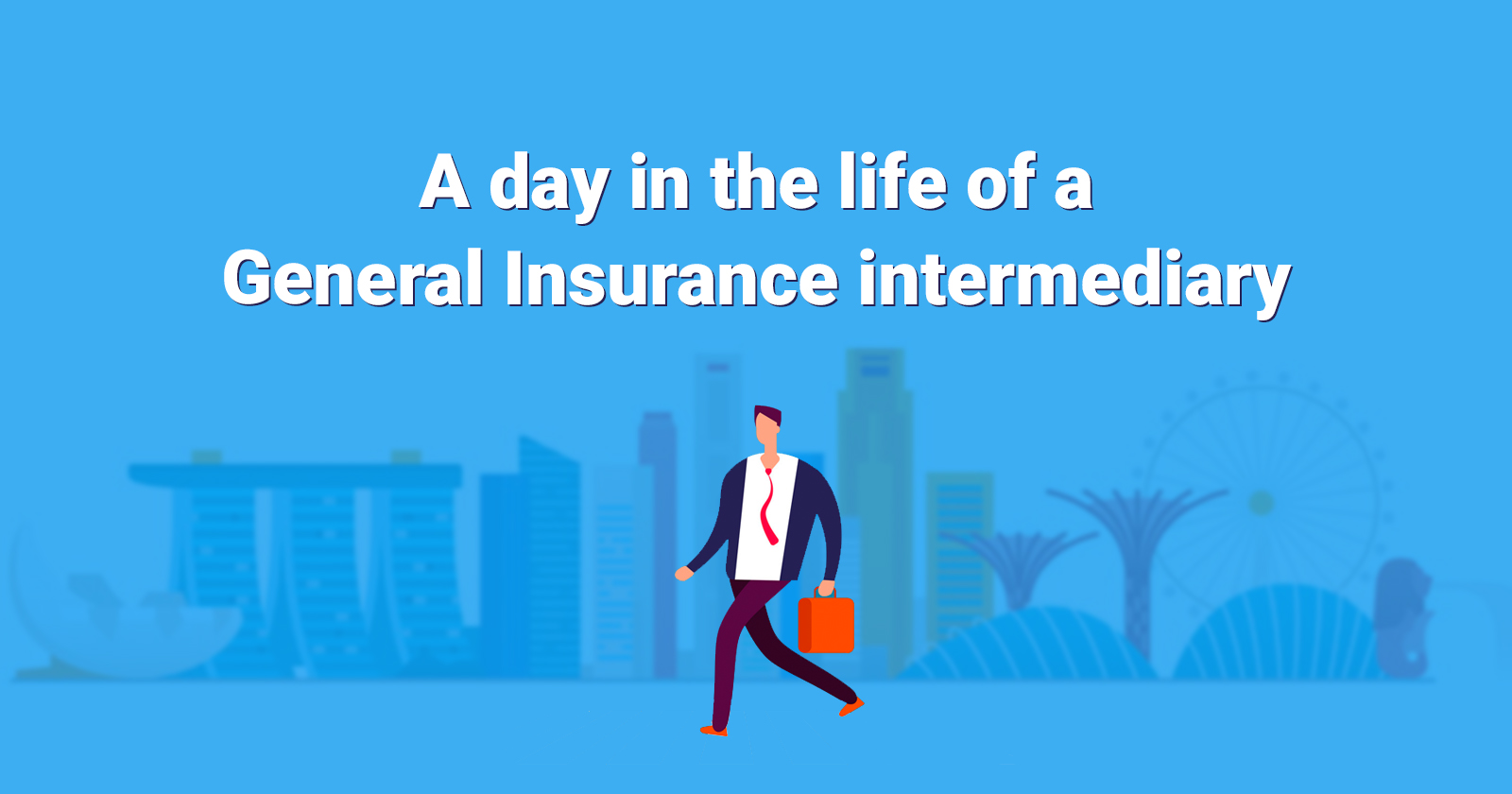 Disclaimer: we did this prior to circuit breaker – sometime towards the last week of March. Thanks to circuit breaker, we now have a bit more spare time to write this story.
Part of the job, building the Surer platform is to really immerse ourselves in how a General Insurance intermediary operates on a day-to-day basis.
This is especially important given Surer's grand vision to empower General Insurance intermediaries to drive business efficiency, resulting in greater earnings and better service for their clients.
So, we took it upon ourselves to stalk an intermediary to understand what YOU go through.
Okay obviously we didn't literally stalk anybody – we had the consent of a user for us to shadow him.
We thought it would be interesting to share this story as well.
User did not want to be name, but for fluency of the article, we will just call him 'Handsome'
10am – 11.30am
We met Handsome at Frasers Tower to conduct our free 1-1 introduction session which you can still sign-up for (we are conducting it via video call!) to showcase what Surer is about.
He proceeded to sign-up for a free-trial account thereafter and explored the Surer system on his own.
11.30am – 12.30pm
So we decided to grab a quick lunch together at Amoy Food Centre across the road, before Handsome's scheduled appointment with a client at 1pm. 
This was when the action started to happen… 
Ten minutes into us digging in, his phone started to ring. 
He tarik the Meepok from his mouth and answered his phone
'Hey Mr X… having lunch now… okay let me check… okay I can meet you at 4.30pm today… Changi? So far? More central la… okay can… okay see you at 4.30pm'
We continued to tuck in to our food but within minutes, his phone rang again.
He tarik the Meepok from his mouth again to answer his phone.
'Yo. Mr Y… help you print? You call Z… he can help. He is at <not to be named Insurer> office lobby. Bye.'
At this point, we were curious. We asked what that call was about. 
Handsome explained that an agent friend needed help to print a quote and thought he was at <not to be named Insurer> lobby/office where they have a lounge for agents to do their administrative work.
Of course we jumped at the chance to remind Handsome that Surer helps generate quote presentation digitally and in a structured format – he instantly agreed that this would have helped a lot. But he also reminded us that agents will always still prefer face to face interaction with clients.
Now, halfway through his Meepok yes you guessed it his phone freaking rang AGAIN like seriously
He tarik the Meepo… okay you get the drift 
'Hello. Oh okay. No worries. Will come over now. I'm nearby. See you.'
We gobbled our food and left with Handsome. The client he was supposed to meet at 1pm had reached earlier than expected.
12.45pm – 2pm
Tbh… we were kinda food coma-ed out at this point. Kudos to Handsome who still seemed pretty spritely.
We met S and Handsome introduced us.
'Hey S. Thanks for taking time out to meet. I mentioned that there will be these 2 guys who are 'shadowing' me for research purposes for their start-up. Okay right?'
We found a spot at the cafe where we were not totally intrusive of S and Handsome while S and Handsome went about their business talk.
2pm – 3pm
S left at around 2pm and Handsome gave us a quick summary of the meeting with S.
'S is a client my wife introduced to me – her secondary school friend or something'
'She is starting a cafe and wants to understand what coverage she should consider. I basically told her about some packaged products. She said she probably needs something more customised. So the bulk of our conversation was me telling her what coverage she needs and key details I will need from her to get her quotes.'
We reminded Handsome about our quote sourcing system which would be perfect for such a scenario. 
Handsome decided to give it a try…
'Bro, to be honest, I am a bit antsy about this. I mean, is it going to work? But anyway, no harm done, since we have a bit of time till the next appointment. Let me try it out.'
Handsome was pretty savvy and used Surer pretty quickly. (kudos to our product and UX team)
'Eh. I think I'm done. Like, I created the proposal based on the details from S and sent it to my underwriters and a couple of agents I added into my Referral Circle.'
'So what's next?' Handsome asked.
Pretty proud of what had transpired, we just told Handsome 'Now? Drink Coffee, relak, chit chat for awhile lor'
3pm – 4pm
So we continued to chill at the cafe, while waiting for Handsome's next appointment.
His phone continued to ring a couple of times. Seriously. The whole notion of Intermediaries actually having a lot of time to chill was totally dispelled from our heads.
Two of Handsome's intermediary friends walked by where we were as we were chatting.
Handsome called out to them.
'Eh! L and T. Free not? Let me intro you to these guys. They built quite an interesting product that can help us.'
So we conducted the same demo and introduction session for L and T.
Wow. like that also got lead for us.
L: Actually, I had wanted to do something like that previously. But who will want to use it with me. I am also an agent.
T: Ya. this one needs to be done by a neutral party la. Now good la. Got something like that.
L: But ya. Still can be improved. You guys remember my feedback. This could really work well for us.
L and T both signed up for the free trial and left, saying they will explore more later in the day.
We left the cafe with Handsome for what we thought was the last part of the day – his appointment with Mr X.
4.30pm – 5.15pm
We met with Mr X and Handsome introduced us and explained why we were there.
Once again, we found ourselves a spot that wasn't too intrusive.
5.15pm – 7+pm
The meeting concluded at around 5.15pm. 
Handsome then gave us a summary again on what their conversation was on.
'Shag. This client a bit funny. Say he okay with the previous quote already. Now say he wants a couple more to compare.'
'Okay. So anyway, now I need to get back to my underwriter to see if they can tweak the quote.'
We vigilantly looked at how Handsome went about doing this.
'Wah, cannot find the correct part of the email thread to reply sia.' 
We suggested for Handsome to create a new proposal via Surer.
'No la. This one already ongoing. But if I had started on your platform then will not have this problem. I mean, I will find the email eventually la. But, just a bit frustrating.'
We continued to watch and learn how Handsome conducted and resolved this issue.
It was close to 6pm by now and we were about to bid Handsome farewell when he mentioned that he will stick around to sort some admin work out.
We asked what admin work this was. 
'Follow up with underwriter, follow up with client, follow up with other agents lor. Standard.'
We stuck around and just watched curiously. 
Handsome's day finally ended a little past 7pm. Before we left, Handsome quipped…
'How? Not so easy right? Being an agent.'
'Many people think we just chill, answer phone calls. Actually I am one of the more fortunate ones. I have built a strong enough base of clients. Imagine those having to also handle the marketing side of things and to hunt for clients.'
'But of course, I don't just stick to what I have today la. I am always on the lookout to see how I can grow my port. Which is why your Referral circle part is interesting to me.
'If got chance, next time you join me when I go for networking events – quite tiring. I mean most people are nice. But, sometimes, quite tiring to keep socialising also.'
'Okay la. You guys look shag also. Anyway, hope today helped. I will reach out to you guys if anything.'
Super appreciative of the learnings we had today, we thanked Handsome and left. 
—
We couldn't help but be even more inspired to build and continue to improve on Surer.
The job of a General Insurance intermediary really isn't easy – they work in the background trying their best for their clients; sometimes, unfairly carrying the burden of the bad rep insurance agents have. Huge salute to all of you!

Btw, Handsome managed to get a couple of quotes for the proposal for S via Surer. He is now working to close the deal!
Are you an Insurance intermediary? Sign up for free now!
It is fuss-free. No credit card or payment required.
SIGN UP NOW
Subscribe to our Telegram channel to get the most insightful articles delivered to you automatically!
Join Telegram