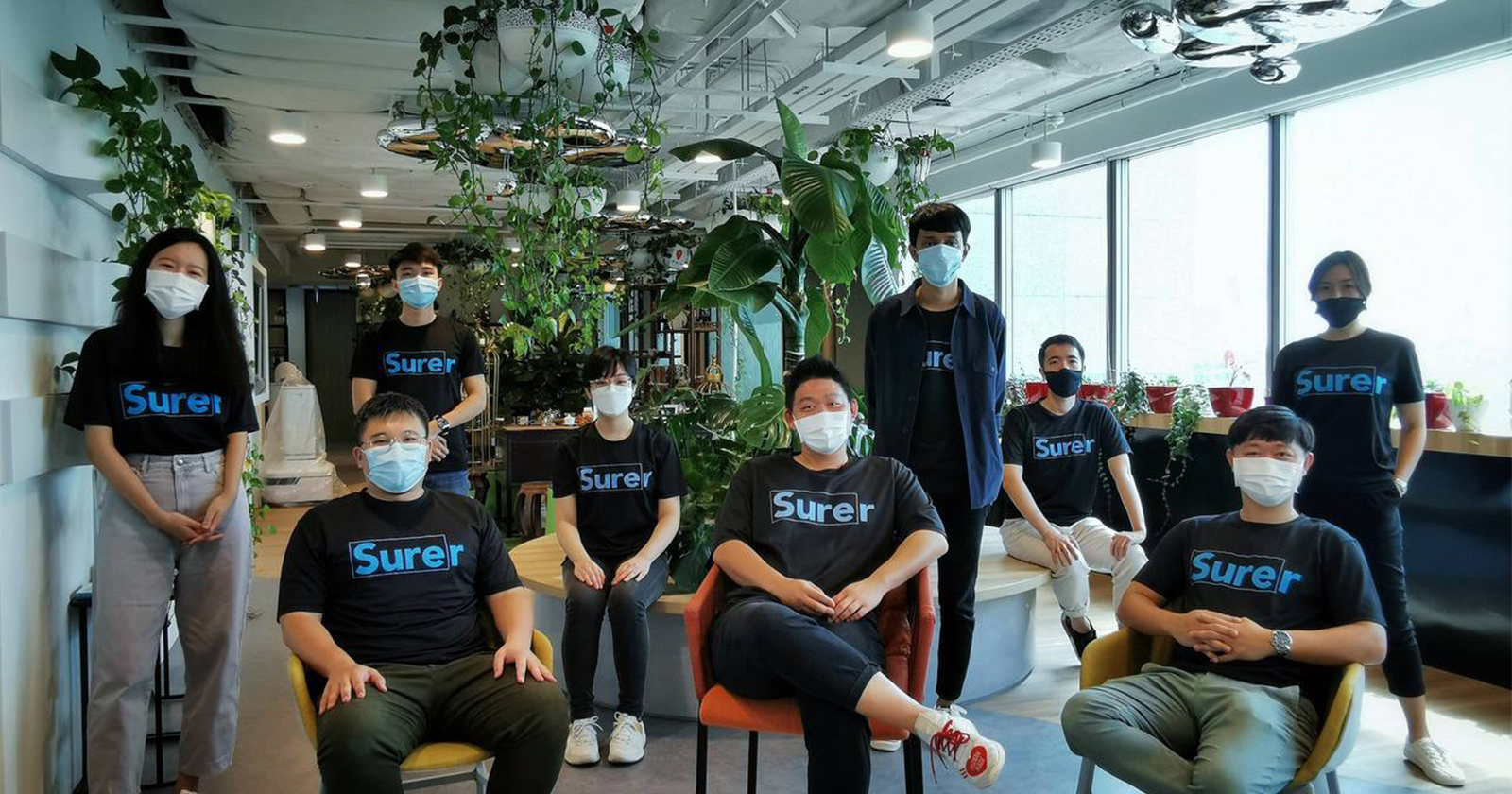 Surer, a Singapore-based insurtech firm raises US$1M from Kistefos, Markel Corporation and an angel investor to fund its core technology platform.
Singapore, 14 Oct 2021 – Surer has raised US$1M in its seed round of funding from Norwegian private investment company Kistefos, global specialist insurer Markel Corporation through its insurtech investing arm, Markel Digital Investments, and an angel investor. Antler, a global early-stage venture capital firm, also invested in Surer in an earlier round.
Launched in September 2020, Surer is a cloud-based insurtech platform that has created a digital ecosystem where insurance intermediaries and insurers can leverage its technology to supercharge workflows, processes, recruitment and distribution of products. Surer will help drive network orchestration, enabling efficient communication and transmission of information to help both parties serve the end policyholders better. 
With the new funds, Surer intends to bolster its core technology platform and invest in its tech team to deliver on its product roadmap.
"We are pleased to have strong investors onboard who share our vision to solve the problem of a huge mismatch in demand and supply in a US$1.7 trillion dollar general insurance industry. With the new funds, we believe Surer can further capitalise on our unique position to build a fully connected digital ecosystem that drives a 'triple-win' situation where policyholders can be served with greater quality because of a highly efficient intermediary sales force that can now scale their business without impediments which ultimately delivers more  business for Insurers. This digital ecosystem will eventually include merchants who wish to package insurance with the products they are selling. Kistefos has a strong track record and understanding of support for its portfolio companies while the commitment of an influential industry player like Markel confirms the potential of our business and solution." said Co-founder, Gordon Tay.
Since its launch, Surer has seen strong traction with over 350 intermediary signups and demo requests, more than 1,000 insurance proposals sent and over S$1.2M in gross written premiums (GWP) transacted on Surer. It expects to see the GWP transacted on its platform to cross the S$2M mark by the end of 2021.
"Kistefos has a strong investment portfolio in Norway and Europe, including companies delivering financial services. We are seeing huge potential in Asian markets, and Surer has shown the ability to capitalise on the trend of digital transformation in the insurance industry in the region." said Bengt Rem, CEO of Kistefos.
Surer was recently ranked among the top 3 companies for 'Insurtech of the Year' at the '6th Asia Trusted Life Agents & Advisers Award' and is certified by the Singapore FinTech Association as an Insurtech service  provider.
Media enquiries: contact us via this form here
—
About Surer
Surer is a cloud-based insurtech platform with a digital ecosystem of intermediaries and insurers. It provides tech solutions to help orchestrate the network in the insurance industry enabling insurance intermediaries to close a deal with greater speed and allows insurers to distribute their product with better efficiency. Launched in September 2020 in Singapore, Surer was founded by Gordon, Derren and Renfred, who have held positions to grow the business in notable Singapore companies like PropertyGuru and Carousell, while also having careers in major insurance companies like AIG, MSIG and QBE. Surer is certified by the Singapore FinTech Association as an Insurtech service  provider and ranked among the top 3 companies for 'Insurtech of the Year' at the '6th Asia Trusted Life Agents & Advisers Award'. Visit https://surer.sg/ for more information.
About Kistefos
Kistefos is a private investment company wholly-owned by Christen Sveaas. Value creation is achieved through active involvement through board representation in order to develop the companies where Kistefos has substantial ownership interests. The investment portfolio includes Norwegian and foreign companies within the segments offshore, shipping, financial services, technology, real estate as well as financial investments.
About Markel
Markel Corporation is a diverse financial holding company serving a variety of niche markets. The company's principal business markets and underwrites specialty insurance products. In each of the company's businesses, it seeks to provide quality products and excellent customer service so that it can be a market leader. The financial goals of the company are to earn consistent underwriting and operating profits and superior investment returns to build shareholder value. Visit Markel Corporation on the web at www.markel.com.
About Antler
Antler is a global early-stage venture capital firm that invests in the defining technology companies of tomorrow. The firm has offices in sixteen cities worldwide, across six continents. Since its launch in 2017, Antler has invested in and helped build over 300 companies. Antler enables exceptional people to build impactful technology startups by building complementary teams, supporting the teams with deep business model validation, and providing a global platform for scaling their startups.
Are you an Insurance intermediary? Sign up for free now!
It is fuss-free. No credit card or payment required.
SIGN UP NOW
Subscribe to our Telegram channel to get the most insightful articles delivered to you automatically!
Join Telegram