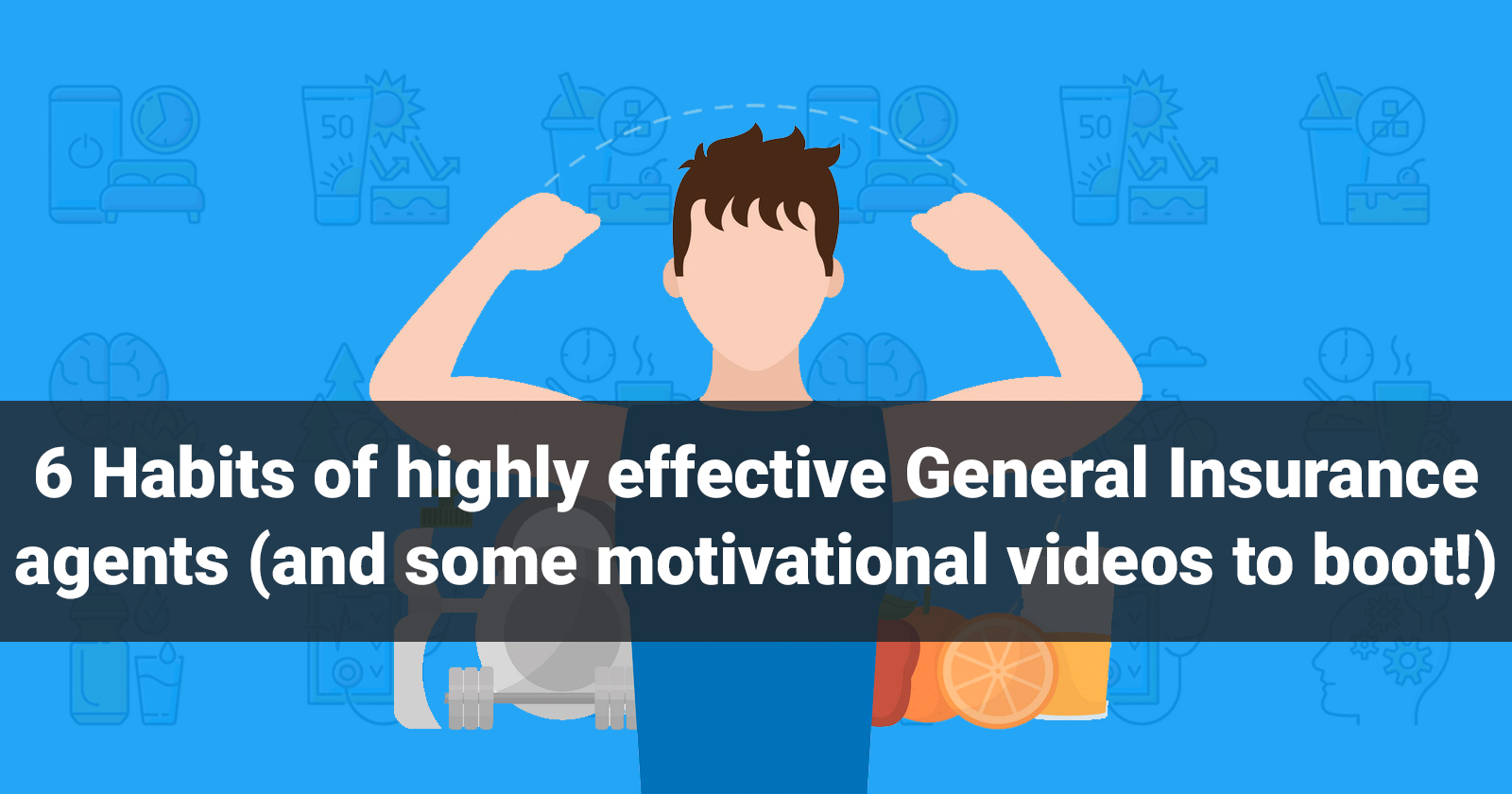 Why do some agents constantly see success while others flounder?
We have had the opportunity to speak with many users and in these conversations, we usually also ask questions to further understand this.
What we got out of it was a pretty consistent set of answers – and all relates back to the habits these agents subscribe to.
Motivation gets you started. Habit keeps you going.
So, here goes…
We threw in a couple of related motivational, cheesy, cliche videos cause… but tbh sometimes, they do really work to motivate la.
1. STAYING HUNGRY
Almost all the agents we spoke to said the same thing. That they are always hungry. 
Hungry for more success.
Hungry to serve their clients better.
Hungry for ways to improve their current business processes. 
Interestingly, one agent observed that when times are tough (for example, at the start of 2020 where everyone were scrambling to adjust to living in Covid-19 times), the less successful ones always retreat back into their comfort zone and the safe haven of 'how it has always been'
When times are tough (like right now), the less successful ones always retreat back into their comfort zone and the safe haven of 'how it has always been'
Well, we are all experiencing the fact that, unfortunately, life is not designed for the comfy or safe.
Times change, people change, the marketplace changes, methodology changes.
It was pretty clear that the highly effective agents are the ones who are always hungry. 
Motivate yourself right now with this short video from successful entrepreneur, Gary Vaynerchuk, for a deeper look into what it means to be "Hungry," and the reasons that hold us back…
2. WILLINGNESS TO FAIL
Somewhat related to the point above, many agents actually, and to our surprise, said that the secret to their success was willing themselves to take a leap of faith.
To be willing to fail.
Not that crazy a theory since a certain Albert Einstein once said, "Failure is success in progress."
"Failure is success in progress"
– Albert Einstein
But the most important point to make here is to LEARN from failings. 
Highly effective insurance agents believe failure is another step on the road to success. Instead of shying away from failure, they embrace their misses, learn, adapt and try again.
For example, they are keen to try out new ways to enhance their business processes instead of avoiding the prospect of failure and settling instead with being mediocre.
We guess, similar to what Rocky says here (btw, one of our personal favourites in our list of motivational videos)
3. BEING AVAILABLE AND QUICK TO RESPOND 
"We no longer live in a world where we as insurance agents can dictate the terms of communication with our clients."
Quite a no brainer and many already do understand this.
However, being available is not just answering the phone call or responding to the text in a timely manner.
It is also about the follow-up work you do thereafter all the way through till it is done.
We realised that one of the key features agents use Surer for is the quote sourcing one. 
It allows an agent to quickly be able to send out a proposal to multiple parties in one swift action; to be more efficient in following up on their client's requests.
Highly effective insurance agents have begun to embrace the idea of digitising their business and leverage tech solutions. 
4. BEING VALUE DRIVEN 
Linked to the above point, there is a difference between getting it done and getting it done WELL.
A lot of times, this means genuinely seeking the best policy for the client. 
WHETHER. THE. CLIENT. KNOWS. IT. OR. NOT.
Agents we spoke to pride themselves on this.
They shared that their clients trust them and they take this very seriously. 
So, rather than pushing the deal that gets them the best returns, they are put in the extra effort to source for the best quotes / coverage, at times, even if it means referring them to another agent who can get their client a better deal.
Almost all of them see zero churn in their clientele. 
They mentioned that it is almost as if clients can smell authenticity; that the difference between genuinely caring or not could make or break a deal. 
5. SURROUNDING THEMSELVES WITH LIKE-MINDED PEOPLE
"You are the average of the five people you spend the most time with."
– Bestselling author and motivational speaker, Jim Rohn
Success breeds success sounds about right here.
The agents we spoke to made it a point to always keep their inner circle to those who are highly motivated.
This has nothing to do with being elitist, they were quick to point out.
"Imagine if you work with someone who just keeps telling you to chill, let's go for beer. You run the risk of eventually going for that beer instead of persevering!" one of the agents we spoke to shared.
He mentioned that this is not to say you have to be always highly strung up, but there are benefits of having a core support group to take turns to remind one another to stay motivated.
6. PERSISTENCE 
None of the agents we spoke to said having a successful career in insurance is easy.
No one. Absolutely no one. 
And absolutely no one wins all the time. 
But the highly successful agents we spoke motivate themselves by being persistent, telling themselves 'success is right around the corner'.
They concentrate on all the reasons they can succeed and they find a way to win.
When some may think it is luck, the successful ones know it is being persistent and not giving up.
"I've found that luck is quite predictable. If you want more luck, take more chances. Be more active. Show up more often."
– Business coach and international speaker, Brian Tracy
Be more persistent in the pursuit of your goals.
If you feel like you are wasting time sitting in the office doing administrative work, go out there and find a solution – not continue sitting there and doing it.
And to wrap up this article, here's a video from the great Steve Jobs and what he has to say about the importance of persistence…
—
And there you have it.
Do share this with anyone you know who you think needs that little bit of motivation or a kick in the butt!
Are you an Insurance intermediary? Sign up for free now!
It is fuss-free. No credit card or payment required.
SIGN UP NOW
Subscribe to our Telegram channel to get the most insightful articles delivered to you automatically!
Join Telegram