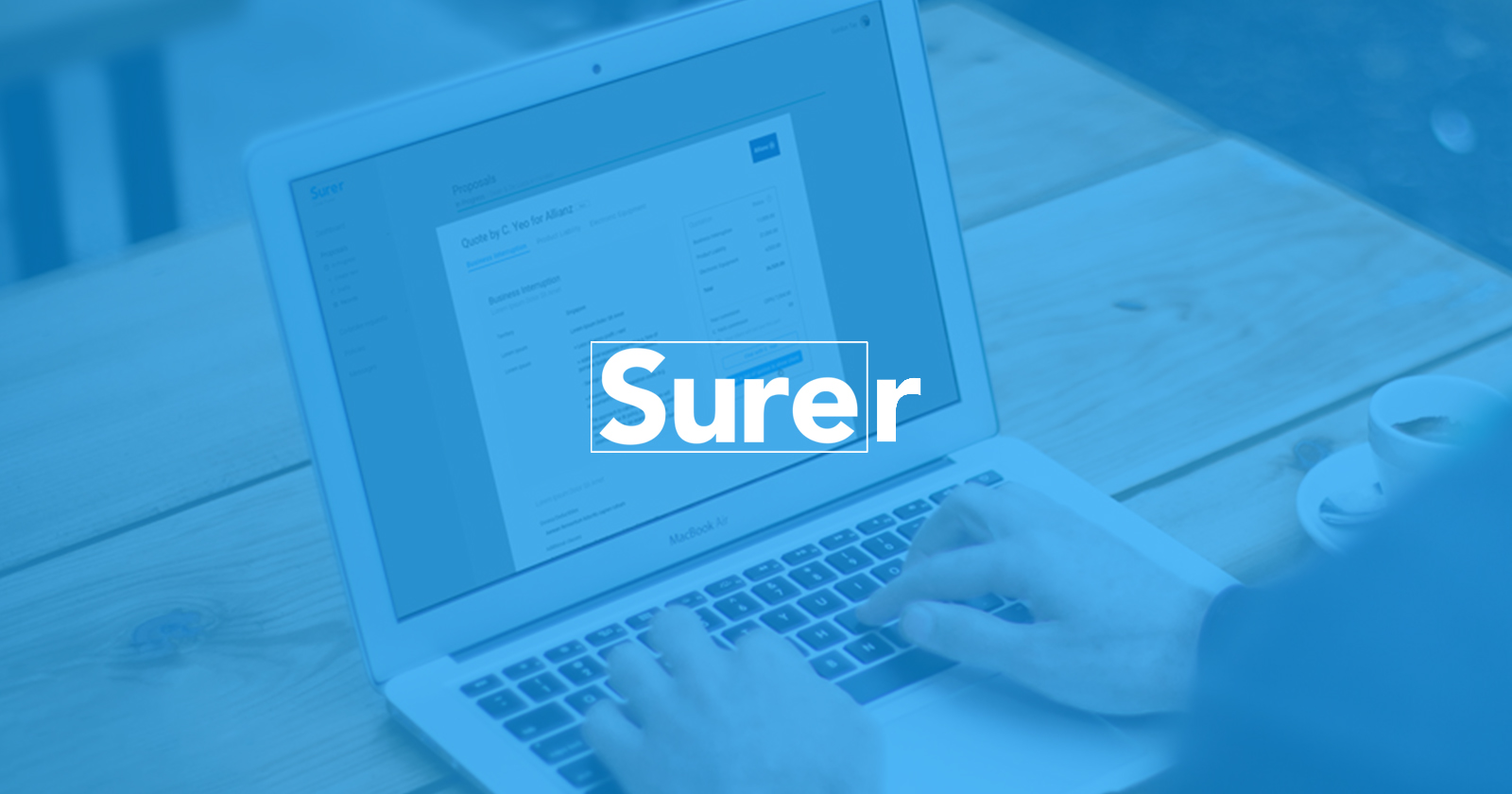 Surer is a cloud-based, web platform with a market-first technology in the region, that helps all parties in the General Insurance industry automate processes and drive network collaborations. In digitalising their workflows, it will enable them to focus on their clients, scale their business, without having to worry about mismanagement. Surer is now available, with a 21-day free trial for a limited time only.
With its proprietary quote sourcing and network collaboration features, Surer helps intermediaries save 95% of their time on product quote sourcing and 70% of time spent dealing with administrative processes. By starting their workflow digitally, information can now be structured and communicated automatically. This leads to a more efficient sales force that can increase its focus on prospecting and advising clients, including the 70% of uninsured or underinsured SMEs in Singapore. 
Licensed General Insurance agents in Singapore are allowed to represent a maximum of three insurers. However, only 9.9% of these agents represent three Insurers.
Insurers can grow and engage with this previously fragmented sales force by working with them on one single, connected platform to grow their General Insurance business.
In powering the efficiency of this ecosystem, the end consumer or policyholder can now get a more engaged intermediary for advice who is now able to present more options faster.
"With more than 10 years of experience working in various roles, including as an underwriter, for multiple insurers; and having interacted with hundreds of intermediaries, I personally felt the pain of a traditional process that can and should be supercharged with technology. The vision of Surer is to be a fully connected platform that can, facilitate a 'triple-win' situation where policyholders can be presented more options because of a highly efficient intermediary sales force who can now advise better, close faster and ultimately give more business to Insurers who now have access to these 'supercharged' intermediaries." shared Derren Teo, Co-founder of Surer.
One local intermediary, Jason Lee, who was a user of Surer during its Beta release, has already found success, completing over ten deals, with more in the pipeline.
"Surer has given me a lot more confidence to track my business such that I can have a peace of mind, enabling me to spend more time prospecting for and servicing my clients" said Jason.
Surer is certified by the Singapore FinTech Association as an InsurTech service  provider and is currently part of the Antler SG5 cohort. 
Antler is the world's largest early-stage VC and investment platform that enables and invests in high potential startups. Antler believes that it is important to have exceptional people work on addressing global opportunities and challenges, by building groundbreaking technology companies.
"Here at Antler, we get our founders to be crystal clear about the problem they are solving because 42% of startups fail due to a lack of market need. We are focused on advising the founders of Surer because we see that they are going after a real problem and provides a well thought out solution that leverages technology" said Winnie Khoo, Partner, Antler Singapore.
Surer is now available with a limited time only, 21-day free trial, to all intermediaries.
Are you an Insurance intermediary? Sign up for free now!
It is fuss-free. No credit card or payment required.
SIGN UP NOW
Subscribe to our Telegram channel to get the most insightful articles delivered to you automatically!
Join Telegram