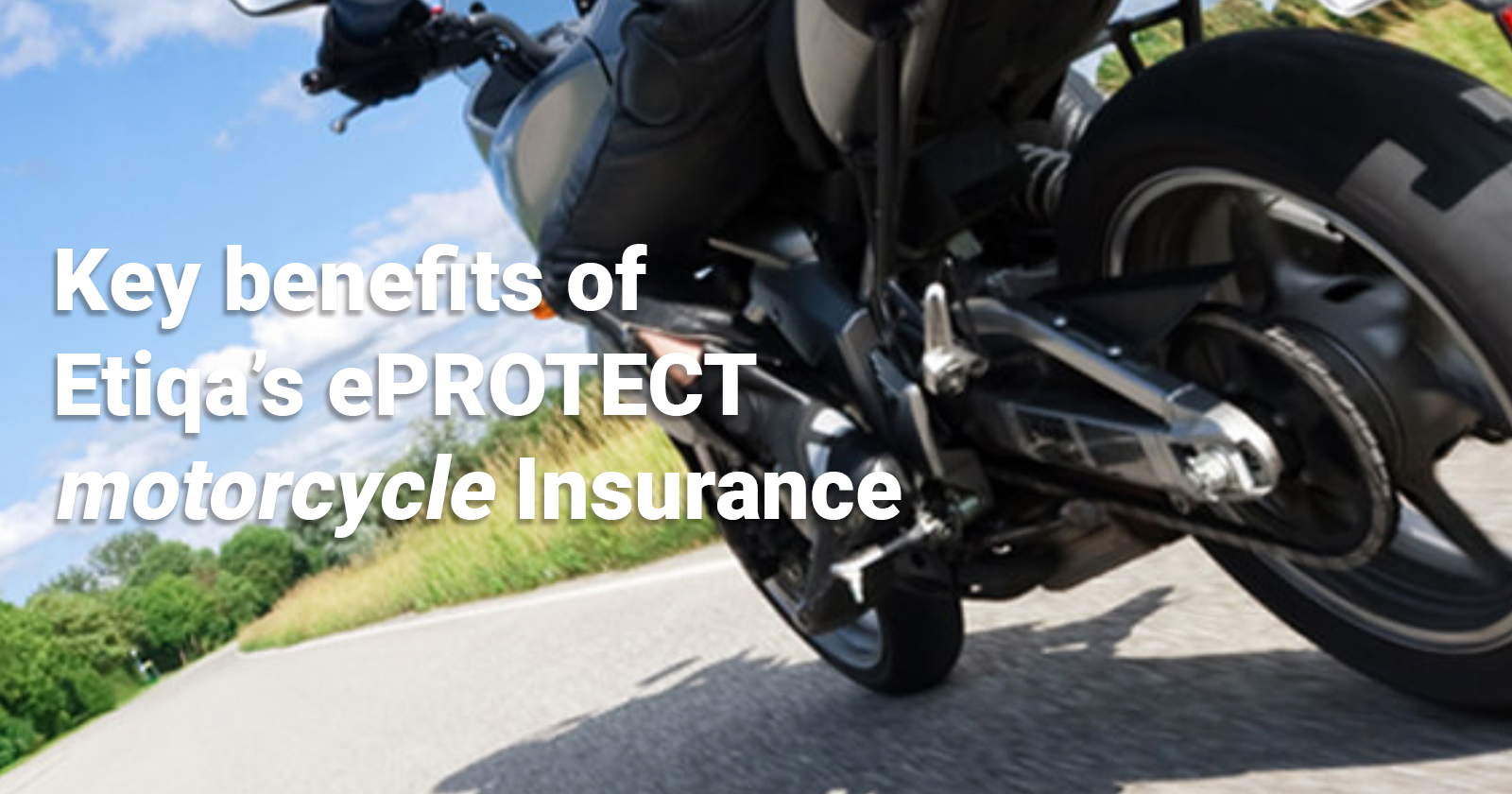 Overview:
Choose from comprehensive, third-party fire & theft and third party only coverage types.
Up to 50% of vehicle theft valuation
Up to $500,000 coverage for loss an or damage to 3rd-party property
Ride with comprehensive coverage and a greater feeling of assurance
Features Insured

Comprehensive
Third-Party Fire
& Theft
Third-Party Only
Accidental loss or damage by fire
✅
✅
Loss or damage by theft
✅
✅
Accidental loss or damage by other insured causes
✅
Policy Excess (from $300 or as shown on the Schedule or Certificate of Insurance, applies for each and every accident claim)
✅
✅
Towing to repairers or places of safety following accident
✅
✅
Vehicle stolen outside Singapore subject to applicable excess
✅
✅
Death or bodily injury to third party
✅
✅
✅
Loss or damage to third party property (up to $500,000)
✅
✅
✅
Legal costs and expenses
✅
✅

✅
Other useful information
Policy Wording can be found here
Frequently Asked Questions
What is covered under ePROTECT motorcycle?
ePROTECT motorcycle provides coverage suitable for all motorcycle owners. Etiqa's Comprehensive Plan covers loss, damages, theft, and also loss or damage to third party property cover of up to S$500,000. To learn more about ePROTECT motorcycle, click here.
Does Etiqa cover everyone who uses my motorcycle?
This depends on whether your client has declared any named rider in your application. Your client's named rider will enjoy the same coverage as your client.
What should my client do if their motorcycle is stolen?
In the event that your client's motorcycle has been stolen, lodge a police report immediately and submit a claim with the copy of the report to Etiqa.
Does the insurance cover my client for riding in Malaysia and/or Thailand?
Your client's policy covers them when they ride their motorcycle in Singapore, West Malaysia and Southern Thailand (Within 80km of the border between Thailand and Malaysia.)
Does Etiqa cover the accessories and spare parts on my client's motorcycle?
Etiqa will cover for accessories and spare parts if these were fitted as standard equipment by the maker or distributor at the time your motorcycle was originally bought and they were on your motorcycle at the time of the accident, loss or theft. Etiqa may pay in cash the amount of the loss or damage or may repair, reinstate or replace the motorcycle or any part thereof or its accessories or spare parts.
Does Etiqa cover any modifications done to my motorcycle?
Modifications and/or accessories are only covered if they are LTA-compliant.
What is the excess amount under my client's policy?
Policy excess starts from $300.Please refer to the Schedule or Certificate of Insurance for the exact amount. Do note that the excess applies for each and every accident claim.
This policy is underwritten by Etiqa Insurance Pte. Ltd. (Company Reg. No. 201331905K).
This policy is protected under the Policy Owners' Protection Scheme which is administered by the Singapore Deposit Insurance Corporation (SDIC). Coverage for your policy is automatic and no further action is required from you. For more information on the types of benefits that are covered under the scheme as well as the limits of coverage, where applicable, please contact us or visit the General Insurance Association (GIA) or SDIC websites (www.gia.org.sg or www.sdic.org.sg).
Information is accurate as at 30 May 2023.
Are you an Insurance intermediary? Sign up for free now!
It is fuss-free. No credit card or payment required.
SIGN UP NOW
Subscribe to our Telegram channel to get the most insightful articles delivered to you automatically!
Join Telegram