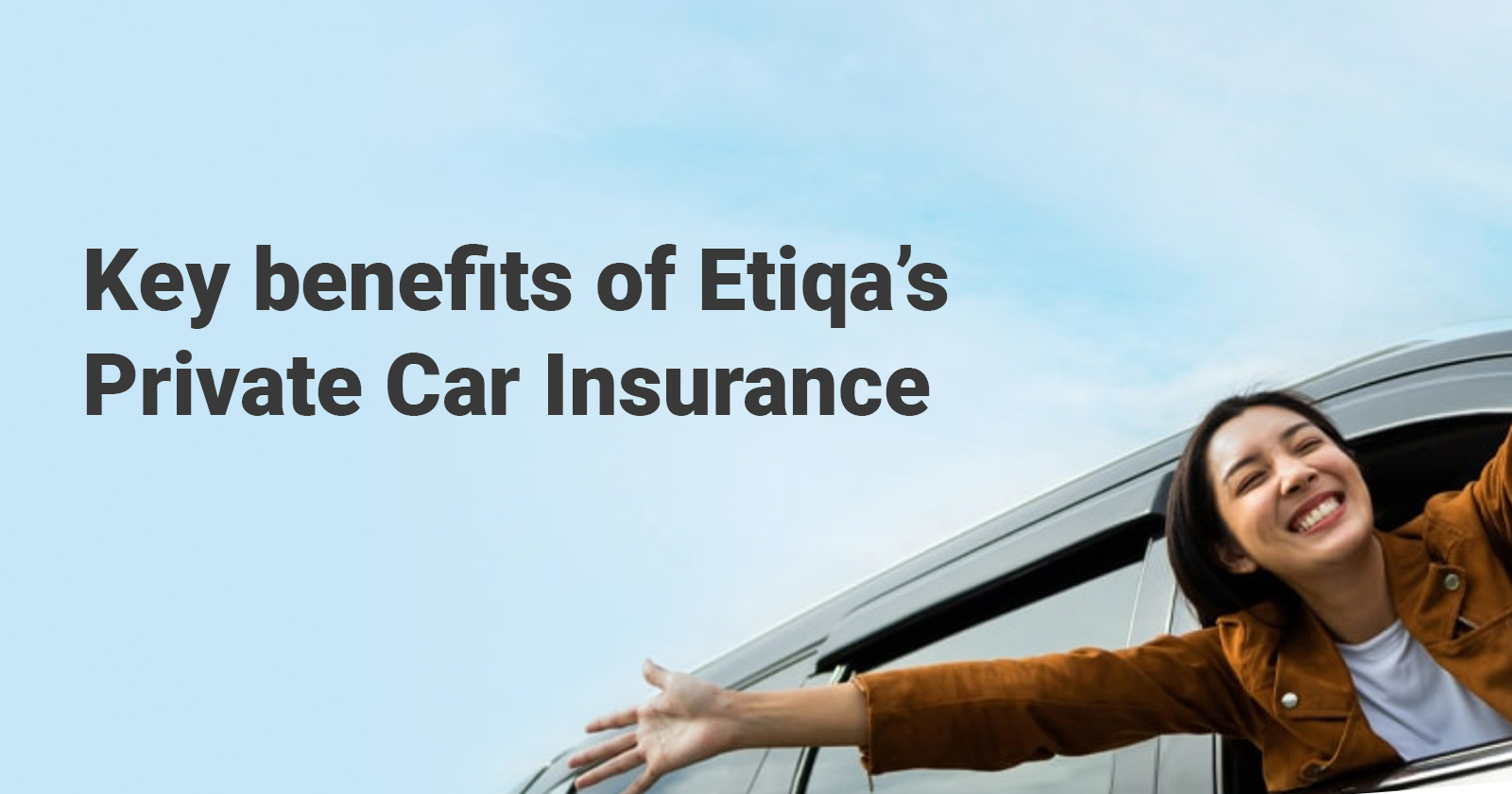 Overview:
Unlimited windscreen cover (S$100 excess for each replacement)
Extra 5% discount for being demerit-free​
Island-wide authorised workshops with 9 months repair warranty​
Free coverage for child seat (up to $300)
Up to 30% yearly rebate with Drive Less Save More
3 levels of cover
BENEFITS

Features Insured
Comprehensive
Third-Party Fire & Theft
Third-Party Only
Accidental loss or damage due to fire
✅
✅
Loss or damage due to theft
✅
✅
Accidental loss or damage by other insured causes (not fire or theft)
✅
Accessories and spare parts due to fire and/or theft only
✅
✅
Towing fee to repairers or places of safety due to an accident
up to S$200
up to S$200
Death or bodily injury to third party
✅
✅
✅
Loss or damage to property that belongs to other party
✅
✅
✅
Legal costs and expenses if you are legally responsible
up to S$2,000
up to S$2,000
up to S$2,000
Personal accident cover for policyholder due to a car accident
up to S$50,000
Medical expenses if policyholder/named driver or passenger in the vehicle is injured due to a car accident
up to S$1,000
Unlimited windscreen cover
Excess of S$100
Daily transport allowance for authorised workshops and repairs exceeding 3 days
S$50 per day

(up to 5 days)

Excess for driver(s)
Adjustable excess up to $2500 to save more on premium
Additional excess for Unnamed Driver
S$500
Additional excess for Elderly, Young and Inexperienced Driver
S$2,000
Level up plans with these add-ons
Add-on

Description
Child Seat Cover
FREE
Get reimbursed up to $300 for your child's car seat if it is damaged in an accident.
Etiqa Package

Enjoy great protection and convenience with Etiqa's recommended essential benefits for daily drivers. Includes:

Protection and Removal After Damage or Loss (Enhanced)
Loss of Use Benefit
Medical & Dental Expenses
Enhanced Personal Accident Benefits
Loss of Personal Effects
24-hour Roadside Assistance

Gap Cover
Receive up to S$80,000 for the difference between your outstanding car loan and the market value in the event of total loss of your car
NCD Protector
Protect your No-Claim Discount (NCD) when you renew with us in the event of a claim
Adjustable Excess
Select the excess amount based on your needs and budget
Sun/Moon Roof Cover
Be sheltered and covered up to $2,000 for your car sun/moon roof
Solar Film Cover
Receive damage coverage of up to $1,000 for your solar film
Workshop of Your Choice

Enjoy the freedom to choose your preferred workshop for repairs
Other useful information
Frequently Asked Questions
How does the On-the-go windscreen repair service work?
In the event that your client requires windscreen repairs or replacement services, simply call Etiqa's windscreen panel workshop at +65 6278 0887 to schedule a date and time at your convenience for the servicing.
How does the 30-minutes claim approval work?
Etiqa's fast claims approval is applicable to only own-damage motor claims under the amount of S$5,000 at Etiqa's authorised workshops. Upon receiving the necessary claims and estimated damage documents, repair claims of up to S$5,000 can be approved in just 30 minutes. Exclusions apply for claims which are subjected to further investigation or a breach of policy conditions.
What is covered under Etiqa Private Car Insurance?
Etiqa Private Car Insurance provides customisable coverage suitable for all private car owners. Features include:
Personal Accident cover of up to S$50,000 for the main driver
Medical expenses of up to S$1,000
You may visit any motor workshop of your choice when you select our "any workshop" rider
Towing service of up to S$200
Windscreen Cover (with an excess of S$100). Your client doesn't have to pay any excess for windscreen repair
On-the-Go windscreen servicing
Flood and/or another convulsion of nature and Strike, Riot & Civil Commotion (applicable to Comprehensive Cover only)
Passenger Risk
Legal Liability of Passengers for Acts of Negligence
Third Party Liability including bodily injury and property damage
Legal Service of up to S$2,000
5% Demerit Free Discount
Is my client able to choose the excess amount to suit their needs?
Yes, your client may adjust the excess amount with the comprehensive plan.
Does Etiqa cover my client's car's sun/moon/sky roof?
Yes there is an option to add cover (up to $2,000) for your car's sun/moon/sky roof if your client opts for a comprehensive plan.
Does Etiqa cover my client's car's solar film?
Yes there is an option to add cover (up to $1,000) for your car's solar film if your client opts for a comprehensive plan.
Is there any warranty if my client's car is repaired at one of Etiqa's authorised workshops?
Yes there is a 9 months warranty for repairs carried out on your vehicle, if it is repaired at any of the Etiqa authorised workshops. The warranty commences from the time that you take possession of the car after completion of repairs.
Does Etiqa cover for damage to my client's car due to a flood or fallen tree?
Yes, damage caused by flood and fallen tree is covered under the comprehensive plan.
Does your insurance cover my client for driving in Malaysia and/or Thailand?
Yes, your client's car is covered if driving in the Republic of Singapore, West Malaysia and Thailand (but only within 80 km of the border of Malaysia). Etiqa also covers for transit by sea, only during direct sea route across
the straits between Penang and the mainland of West Malaysia;
the straits between Changi Point, Singapore and Tanjong Belungkor, Johor.
Is my client's car covered for modifications/accessories to my car?
Modifications and/or accessories are only covered if they are LTA-compliant.
How does Etiqa define a "young, elderly and/or inexperienced driver" and what is the excess?
A "young, elderly and/or inexperienced driver" is defined as someone:
under the age of 24,
above the age of 75, and/or
who has held a full driving licence for less than 2 years.
The insured shall bear an additional excess of S$4,000 (section I) under this policy.
Can my client protect their No Claims Discount (NCD)?
Yes your client can choose to add-on a NCD protector if they are currently at NCD 30%.
Where can my client get their car repaired when their car is damaged due to an accident?
Your client can send their car to any workshop of your choice if you added-on the "My Workshop" option with the Comprehensive plan. Otherwise, the list of Etiqa Authorised Workshops can be found here.
What happens if my client's car's windscreen is damaged because of an accident?
If there is no other damage to the car, your client will be fully reimbursed for the cost of repairing or replacing a new windscreen. Otherwise, there is an applicable excess of $100 for a replacement, and no excess for a repair. This benefit is only applicable under our Comprehensive plan. Also, claiming for this benefit will not affect your client's No Claim Discount (NCD) upon renewal.
How does my client get the free coverage for child car seat?
During the car insurance application, under add-ons, simply check this cover to add it to your client's policy for free.
How many child car seats are covered?
There is no limit to the number of child car seats covered, but the complimentary coverage for child car seat(s) is up to a $300 limit in the event of an accident.
This policy is underwritten by Etiqa Insurance Pte. Ltd. (Company Reg. No. 201331905K)
This policy is protected under the Policy Owners' Protection Scheme which is administered by the Singapore Deposit Insurance Corporation (SDIC). Coverage for your policy is automatic and no further action is required from you. For more information on the types of benefits that are covered under the scheme as well as the limits of coverage, where applicable, please contact us or visit the General Insurance Association (GIA) or SDIC websites (www.gia.org.sg or www.sdic.org.sg).
Information is accurate as at 30 May 2023
Are you an Insurance intermediary? Sign up for free now!
It is fuss-free. No credit card or payment required.
SIGN UP NOW
Subscribe to our Telegram channel to get the most insightful articles delivered to you automatically!
Join Telegram