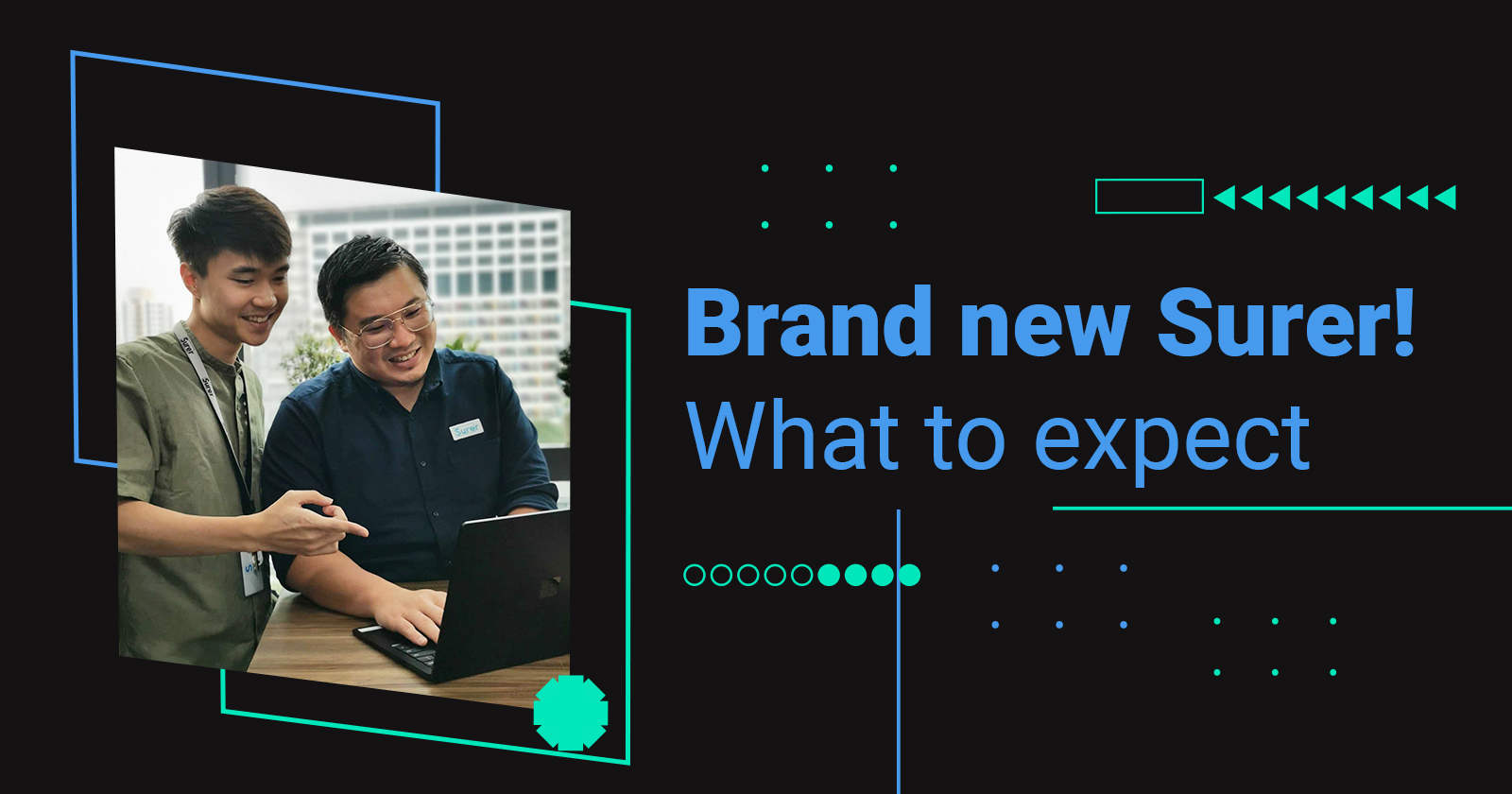 Since the launch of Surer about a year ago, the team has been hard at work, iterating on our solution and feature offerings – essentially, building a brand new Surer platform to continue to serve the needs of our users.
When we say hard at work, what we actually mean is:
Over 4,500 hours of engineering and product design work done
Over 2,000 insurance proposal activity reviewed
Close to 300 insurance intermediaries surveyed 
Close to 40 hours of user interviews conducted 
We were reallyyyyyy hard at work!
The team is bubbling with excitement to open the doors to this brand new Surer platform but before we let the cat fully out of the bag with our official launch in the days to come, here's sharing some key features you can expect (of course, these are in addition to all the other features that you love and are currently using!):
Digital Personal Assistant
Problem: "I wish I had a personal assistant to assist me and let me know what I need to look out for!"
Solution: All Surer users will get their own Digital Personal Assistant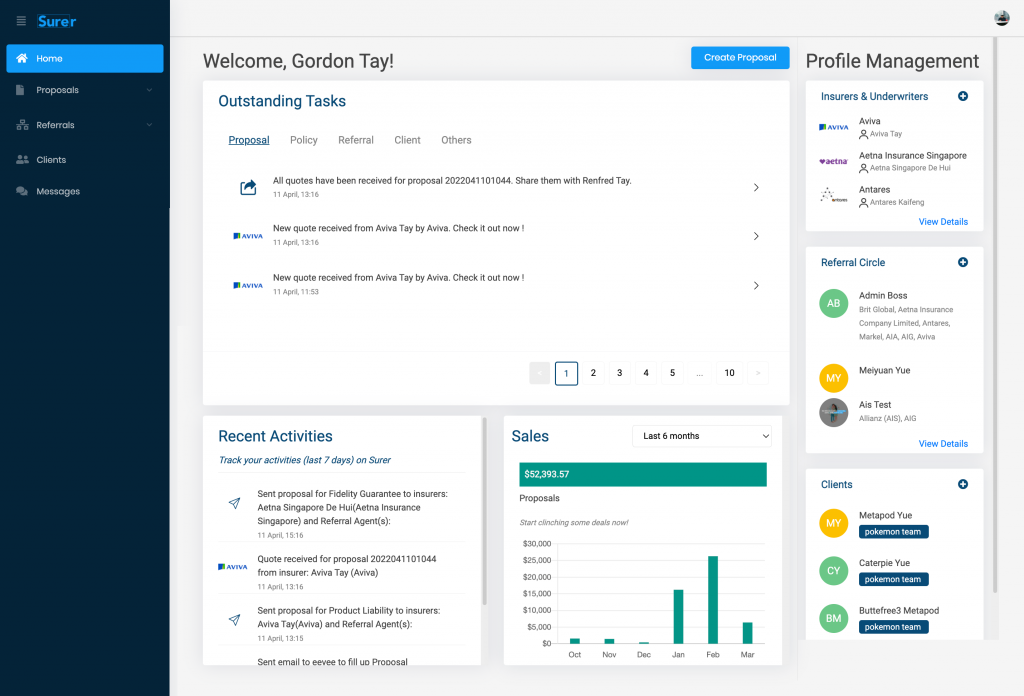 All of us deserve our own personal assistant – intermediaries especially! With Surer, your Digital Personal Assistant is the first thing you will see when you log in to your Surer account. 
It consists of three key components:
Outstanding tasks tracker
Your digital personal assistant will prompt you on key tasks you have to complete – from policy renewal, to when you received a new quote for an insurance proposal, to reminding you of your client's birthday!
Activity tracker
Intermediaries do crazy amounts of work in a day and sometimes, we forget what we did or did not do for a particular deal or client. With the activity tracker, your digital personal assistant will keep track of all the key activities you have done. It's as good as asking a PA 'eh, have I submitted the proposal for the client?' and getting an immediate answer!
Sales tracker
We know of many intermediaries who set sales goals for themselves. Your digital personal assistant will track your sales, in terms of GWP you have produced, and gives you an instant overview of where you are in a given month, past 6 months or past 12 months.
'Know-your-client' (KYC) Proposal co-creation
Problem: "KYC process can be very tedious at times – multiple back and forth with the client can be frustrating for both parties."
Solution: Instead of asking a generic set of questions, co-create a proposal with your client specific to the policy you are assisting the client on!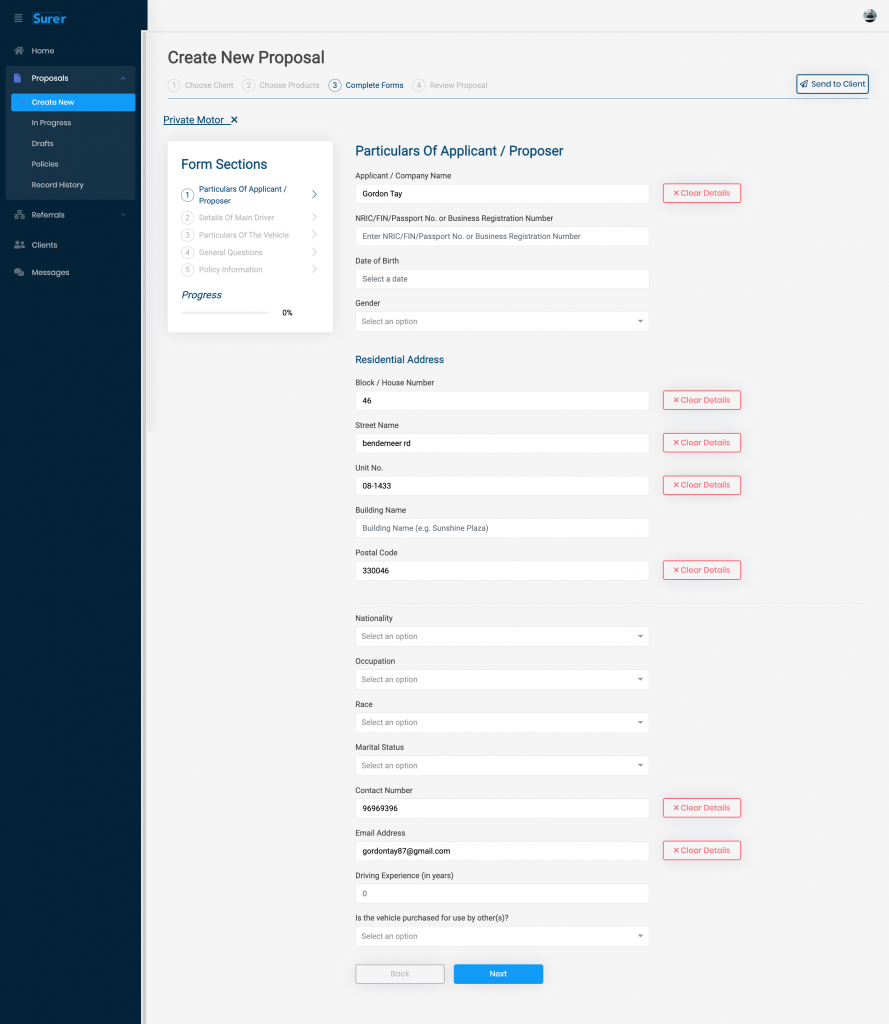 The KYC process for General Insurance products can differ greatly from product to product. Information required about a Professional Indemnity product is hugely different from that of a Motor / Car insurance product. 
Surer's proposal co-creation feature allows you to co-create a proposal with your client digitally! How this is done:

Pick from over 50 insurance product forms and simply 'send to client'
What this does is trigger an email to prompt your client to fill out parts of a proposal form that he has first-hand information or knowledge on. This could be vehicle details for a Motor/Car insurance all the way to business / company information for a Work Injury Compensation insurance product.
Complete the proposal form on your end
Once your client has filled out the information to the best of his knowledge, you will be prompted by your digital personal assistant. Your next action is to simply check through the information your client had filled out, complete the rest of the proposal and off you go to getting quotes!
Brand new Instant Quote Marketplace
Problem: "The workflow to get multiple quotations is super tedious. Sometimes I don't even get a response from my insurer fast enough."
Solution: One proposal, multiple quotes, in seconds!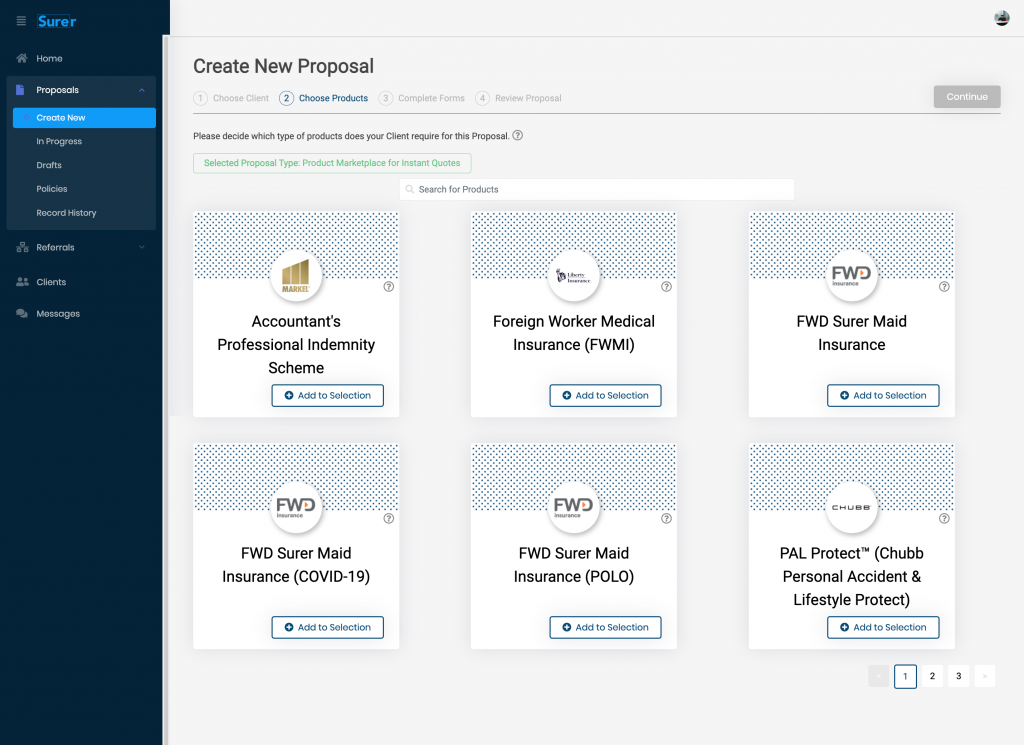 This is already one of our most popular features, however, we have supercharged it to allow users to access even more instant quote products and real-time policy generation! 
After selecting a client, users can then choose to check out our instant quote marketplace where they will see a suite of products with instant quotation functionalities. Once the proposal has been completed, a quote is generated within seconds!
Shortlist this quote to share with your clients digitally via a link automatically generated for you, run the quotation through your client, they accept the quote and you are on your way to close the deal – we've been told a full deal can be closed in as fast as 10 minutes! 
Client management and deal tracking 
Problem: "I am sick of going back to my spreadsheet to update and check the status of a deal or to access information regarding a client and their policies"
Solution: full-scale automation in deal tracking, notifications and client management via 'groupings'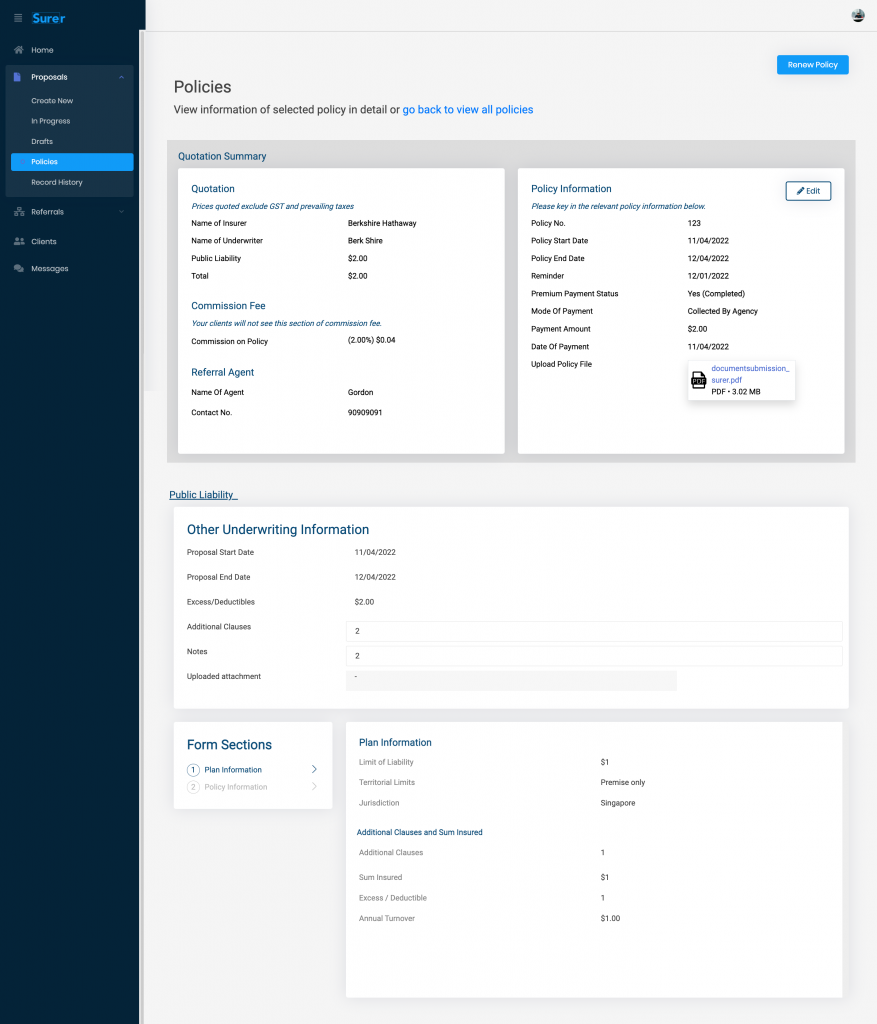 Deal tracking is done, right from the get-go when you create a proposal via Surer, all the way to when a quote is received, a deal is completed and policies are generated. 
Proposal progress tracking
Have overview of the different stages of a deal, from proposal being sent to an insurer, a quote received, a quote shortlisted to be shared with client, a quote being accepted by a client – just one look at the status column of a particular deal and you'd know!
Policy storage and renewal reminder
Store policy documents as attachments to a particular deal you have closed via Surer and also have the flexibility to set up your renewal reminders and payment collection details; after which, you will receive reminder notifications via your digital personal assistant!
Records
Have a full view of what transpired in a particular insurance deal via this 'Records' feature; get access to view who had previously quoted, the price etc. here! You will also be able to add notes relating to this particular deal.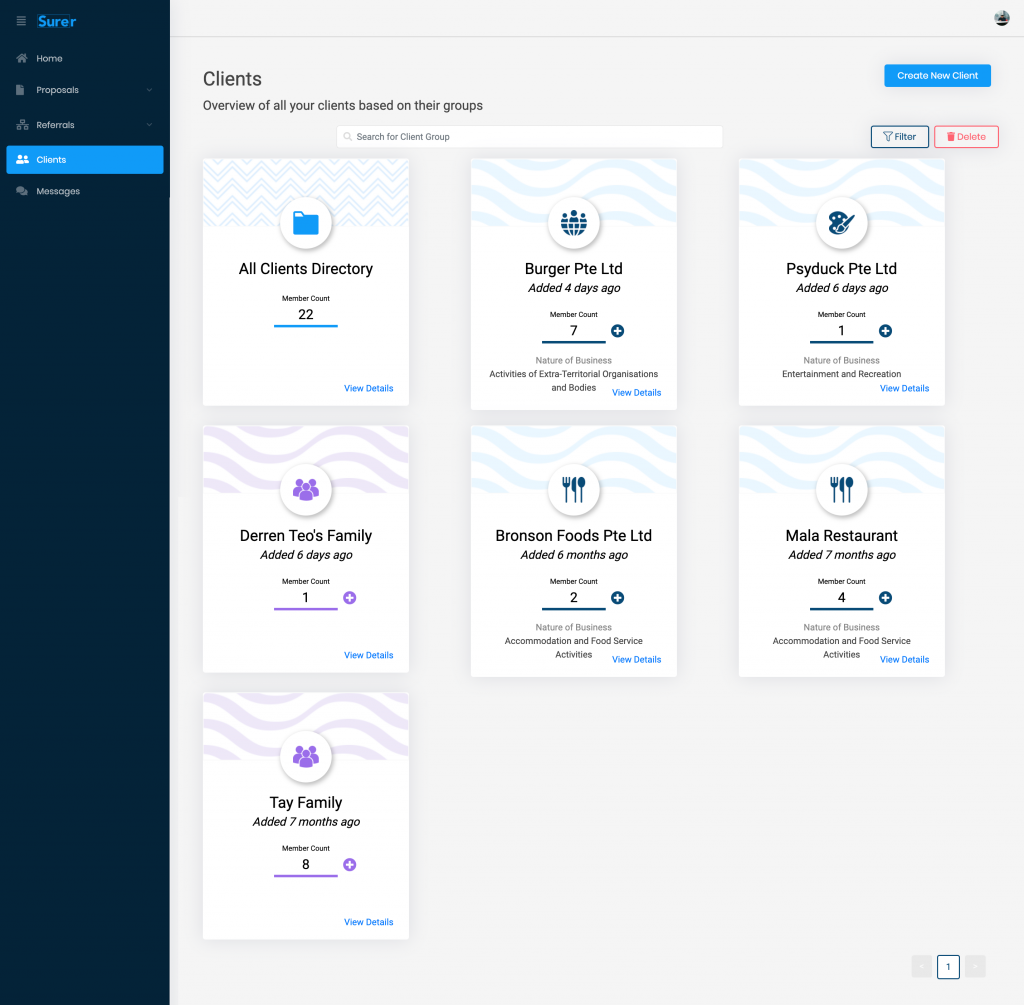 We understand how intermediaries usually have multiple clients who fall within the same family or company. 
What we have done is to allow you to group all clients you have created in your database on Surer in various groups so you never have to worry about missing out on the various relationships each of your clients have with each other!
—
Of course, all existing features that you love are still available – all packaged in a brand new interface that enhances user-friendliness and definitely aesthetically more pleasing (yes, this was actually a  request we heard from many intermediaries we had interviewed!)
Register your interest to be the first to be informed
We hope you are equally excited about this. Regardless if you are an existing user or someone who has just heard about Surer, register your interest below and be the first to receive news of the launch of this brand new version of Surer!
Psst… the team is planning to offer perks to those who register their interest ahead of time
Are you an Insurance intermediary? Sign up for free now!
It is fuss-free. No credit card or payment required.
SIGN UP NOW
Subscribe to our Telegram channel to get the most insightful articles delivered to you automatically!
Join Telegram