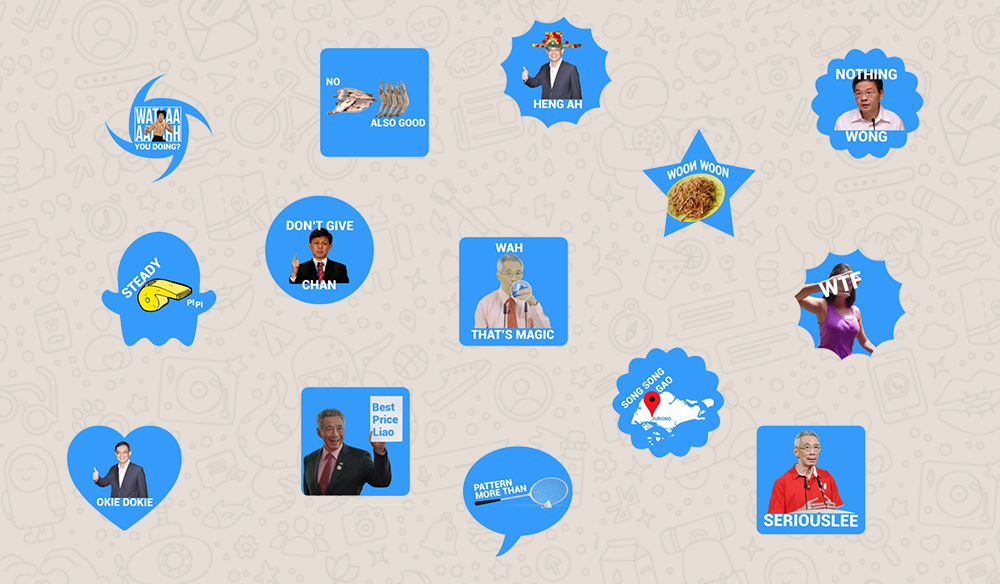 Not blowing our own trumpets but we have been getting quite a bit of request to release more stickers.
So… why not? 
I mean, it's pretty fun for us anyways.
This time round, we had double the fun and made two separate themes worth of stickers!
Similar to our previous article for our first set of stickers, the lame us cannot help but storyline the use of these new stickers. 
Here goes!
—
LOCAL THEME
i.e. only the local of the locals would know understand these. We promise to create something a little more accessible next time!
You: Hello! Whattaa you doing boss!
Client: Eh. Just the right time. Wanted to ask you about something
You: Steady pom pi pi boss. Thanks for thinking of me.
Client: Am doing a side business now. Cause of CB, need to branch out. No fish, prawn also good right? 
Client: Need you to help check on XYZ coverage
You: Okay gimme a couple of mins. Nowadays I can get quotes quite quickly cause am using Surer.
Client: Aisay. Your pattern more than badminton sia.
You: Have to la. Anyways, fast game. Got a quote for you liao. Song song gao jurong!
Client: Okay. I saw the quotes you sent me. Best price?
You: Best price liao boss. LHL say one. lol.
Client: Haha. Okay la. Help me settle.
You: Dont worry boss. This one woon woon char beehoon. No probs one.
Client: okay thanks!
Dont judge the forced storyline. We tried to give it as much context possible already!
—
P
arty
A
ddress
to the
P
eople
THEME
Anyways, please dont take offence, if you have taken offence. All in good tongue-in-cheek fun k?
Client: Hey bro. Need help with another policy. Starting another biz.
You: Seriously? Not bad ah boss.
Client: Seriously
Client: Actually, I was asking another agent of mine. But thought to also get you to help la. See which side faster.
You: Wah Heng Ah. You thought of me. And now im using Surer. So should be quite fast.
2mins later
You:  Okie Dokie. Sent you the quote ready.
Client: Wah. You really dont give chance.
You: Yup. You check to see. Should be nothing wrong.
Client: Magic sia. Fast and accurate.
You: No probs boss. Thanks for the biz!
Once again. If that made you WTF… sorry at the bad scripting. LOL. Here's one bonus sticker

Lololol
—
So, similar to the last time round, while we would like to make it easy for you to get your hands on the sticker pack by downloading it, unfortunately, no such function is available that we can use quickly.
So the simplest way which is reallllyyyy simple is as follows
Click on this link

to let us know via Whatsapp that you will like to get the sticker pack

A Whatsapp chat will be started between you and our Surer team mate

We will then share the stickers with you in the chat

You just have to tap on the stickers to save it
If you wish to, don't forget to ask, in the chat, about RSVP-ing for your Surer demo session and to get your hands on Surer for free!
Are you an Insurance intermediary? Sign up for free now!
It is fuss-free. No credit card or payment required.
SIGN UP NOW
Subscribe to our Telegram channel to get the most insightful articles delivered to you automatically!
Join Telegram