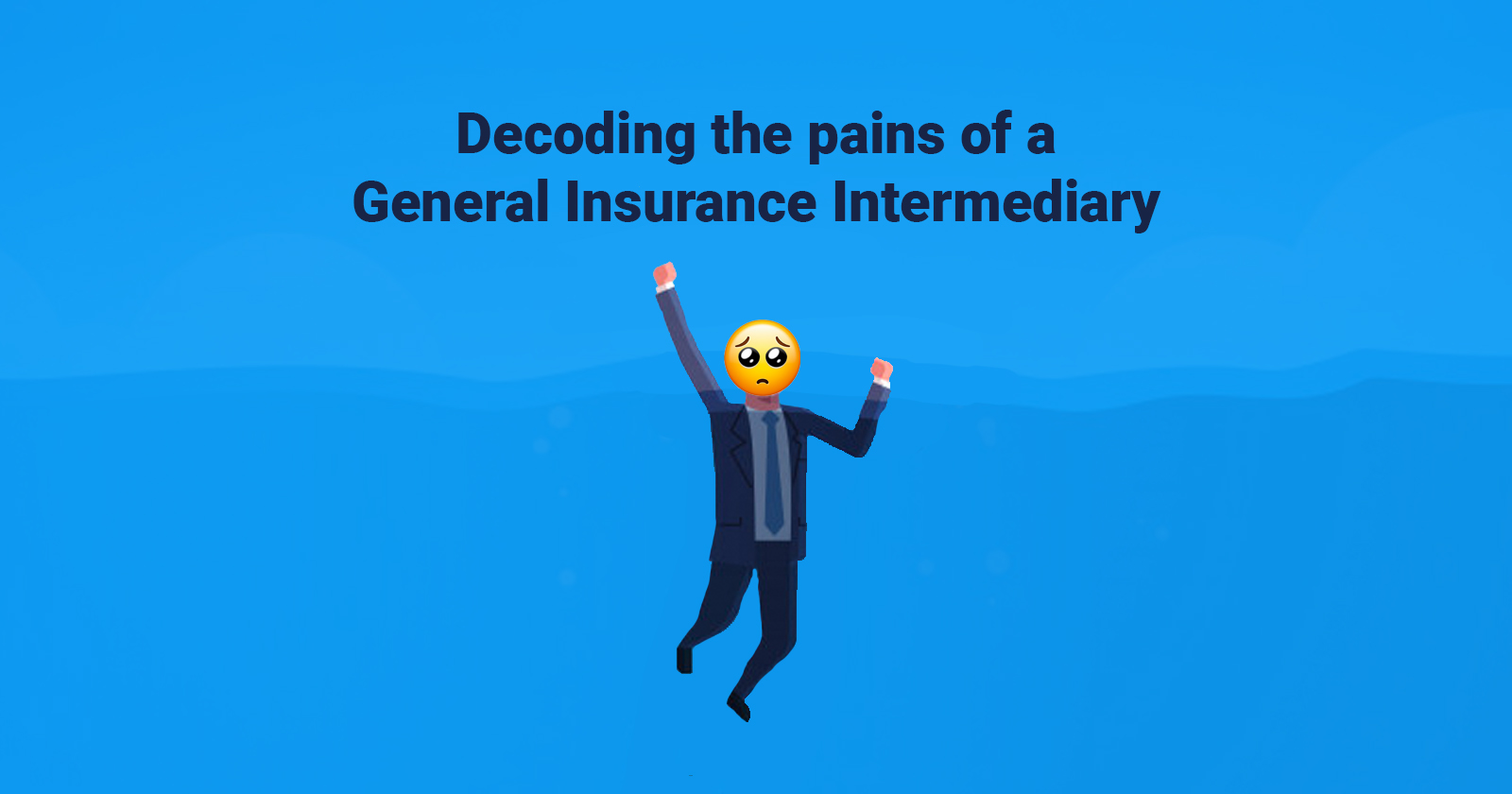 The below image was a very simplistic journey we mapped out when we first embarked on the product building journey for Surer.
If it seems complicated – well, that is how it is really, in reality for many General Insurance intermediaries. This is already a simplistic flow of what happens.
So many obstacles and challenges at every step of the way that intermediaries have to overcome. 
IF ONLY THERE WAS A SOLUTION TO REMOVE THESE BARRIERS
Before we started building Surer, we researched and spoke to many intermediaries, and saw first-hand, how real the problem of these process inefficiencies hampered business growth potential (and not to mention, ability to service their clients to their fullest abilities).
In this article, we would like to take the chance to salute YOU, General Insurance intermediaries and also to decode your pains and hopefully be able to show how Surer is a solution.
Little support
First thing's first.
When we first started, we did quite a bit of digging to understand whether there exists any solution of any sorts that an intermediary could help themselves with.
ZERO. NADAH. ZILCH.
Nope. Those are not fancy names of startups. There was literally nothing.
So, if there really was a problem, why has not anyone done anything about it?
As it turns out, many intermediaries had attempted to help themselves by creating their own tech solution; one user actually mentioned to us that they had spent close to $300,000 to do so!
Many failed due to conflict of interest, high costs, no expertise and a lack of focus
We also realised that the absence of any solution was because the General Insurance industry was perceived to be too niche.
We use the word 'perceive' because we also understand that while there are only around 4,000 General Insurance focused agents, Financial Advisors and Life Insurance agents do advise their clients on General Insurance as well – this number then balloons to over 40,000 intermediaries.
Which is why we switch between the terms 'intermediaries' and 'agents' depending on context.
Also, it is no thanks to the fact that many companies, big and small, think of the more familiar, and seemingly more lucrative Life / Health insurance sector when it comes to InsurTech.
Adding on to this, unlike many other sectors like Property or even Life insurance, what makes matters worse for General Insurance agents is the fact that they do not operate under, for example, a Property Agency like PropNex nor do they have huge divisions or teams like for life insurance agents. 
A lot of times, this then culminates in a lack of resource, support and awareness of problems.
Of course, this is not taking anything away from the associations that try to empower them and tons of good, hard work has gone into this. 
Little initiatives
Once again, comparing General Insurance to its sexier sister of Life / Health insurance, there seem to be almost little focus for initiatives.
Even as the nation focuses on digitalisation for many industries, and kudos to our government really niche industries such as General Insurance, has fallen through the 'digital transformation' crack.
Similarly, we realised that whatever available solutions were highly generic and does not serve the purpose of helping enhance the efficiency of a General Insurance intermediary and the insurers they work with. 
For example, for an intermediary to want to properly digitise their business, they need to employ multiple solutions, piecemeal.
This then defeats the purpose of streamlining; furthermore, even doing so does not facilitate the actual process of closing a deal.
The intermediaries are essential in complex commercial lines within General Insurance and are almost irreplaceable – this was the starting point of our mission; supercharge these intermediaries, grow the industry and reap the benefits and opportunities of a highly efficient ecosystem.
Ask yourself if you would want to try and understand and purchase insurance policies like public liability, workmen injury compensation, Inland transit without speaking to or getting some advice?
Business aside, we decided that it was worth the effort, since, if anything, there was the opportunity to build a product that could genuinely make an impact to an industry and livelihoods.
Not trying to tug at heartstrings – of course business and sustenance matter. But at the end of the day, satisfaction can be derived from building something meaningful as well, if all else fails.
Taking the problem head on 
If you remember that initial image of the table at the start of the article, we sought to decode the pains of the process and try to solve it at every step of the way…
And really, just the tip of the iceberg
Tedious quote sourcing practices
We actually followed an agent (prior to the CB and with his consent of course!) to really get a sense of what it is like, albeit only for a day.
Every potential new deal also means a lot of time having to be spent on tedious, repetitive administrative tasks.
From the get go, we saw that sourcing for a quote can be quite daunting, especially if multiple of such is required.
So we made this the starting point of the Surer product – to ensure that an intermediary can get going, and save 95% of the time spent doing this via Surer
Because the process is started on Surer, we can then ensure that everything to do with this deal can be automated and properly tracked! 
Surer exists, not to help the intermediary multitask but to take over tasks so they can have a peace of mind and concentrate on their key role as an advisor.
Manual, labour intensive tracking of deals
The fortunate agents who have been in the industry long enough mentioned that they have admins or PAs to help with keeping an eye / tracking their deals. 
Some had more than one.
This just validated the point that technology can really help, especially those who do not have the luxury of hiring additional help.
Thus the focus to make sure Surer helps its users manage their business by WORKING LESS essentially, the whole premise of structuring processes and leveraging technology to automate communications, for example.
The days of having to look through email threads and whatsapp messages to track a particular deal NEEDS TO BE SOLVED.
The tediousness of having to repeat actions like informing multiple parties of the same thing NEEDS TO BE SOLVED.
The lack of automated communication on key actions to be undertaken, during and after a deal is concluded NEEDS TO BE SOLVED.
We remember speaking to an intermediary who shared with us a rather heart-wrenching story of how his dad had suddenly passed away from a heart-attack and how he struggled, for a while, to properly take over the business because everything was just in hard copy and written in notebooks.
That was really a story we look back on to motivate ourselves sometimes.
Slow network growth
Especially so for new intermediaries in the industry, a couple of agents shared how they attend networking events and go about dishing out name cards. 
Some mention how there are just days where they do not feel up for socialising but go about it anyway.
One of Surer's key features is to allow intermediaries to do exactly this, digitally; and not just helping with the connection but also have the ability to do tangible things with the connection – like referrals.
We believe that by facilitating intermediaries to work as a collective, they can be empowered to grow the overall business pie to the benefit of everyone!
—
A speech that PM Lee made on 7 June 2020 stood out in particular to us:
…for some time now, we have been working hard to transform and deepen our capabilities. Developing plans for our Future Economy, investing heavily to upgrade our workers through SkillsFuture, digitalising both the private and public sectors, building our innovation and R&D capabilities. 

All this has enabled us to stand out in Asia and the world. Nobody can predict what exactly the world will look like after COVID-19 but however things turn out, these Future Economy strategies will stand us in good stead. We need to pursue them even more vigorously now. For instance, we know that many businesses will no longer be viable. We will support these businesses to transform themselves, change their business models, or move into different and more promising fields.
With this, we believe that no one. Absolutely no one, and no industry should be saddled with the current obstacles an intermediary face. 
Not with the advancement of technology.
Are you an Insurance intermediary? Sign up for free now!
It is fuss-free. No credit card or payment required.
SIGN UP NOW
Subscribe to our Telegram channel to get the most insightful articles delivered to you automatically!
Join Telegram