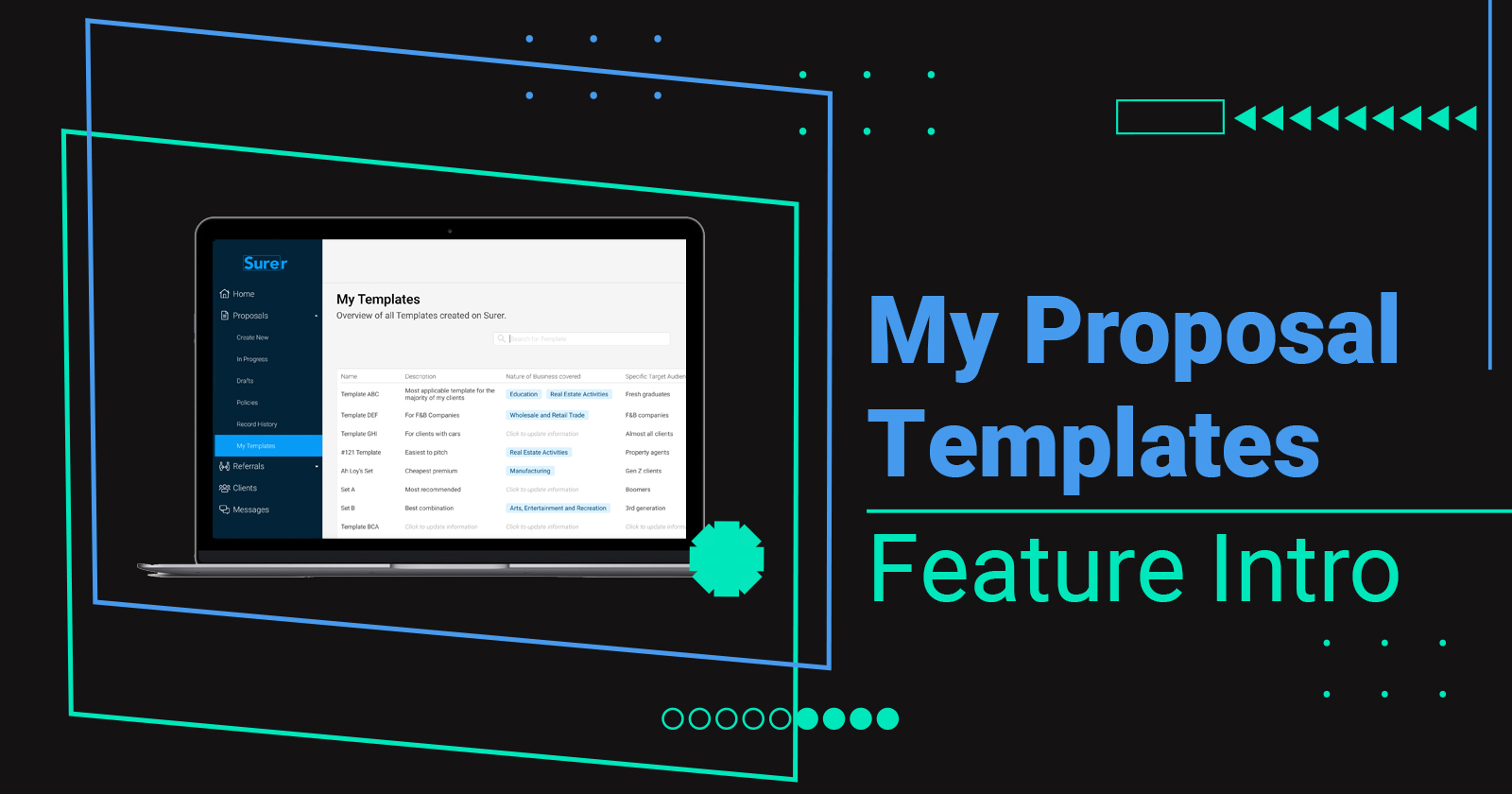 As we continued to speak with more insurance intermediaries, we realised the need for speed is essential.
We have been told many times by intermediaries that speed in getting back to their clients with relevant quotes and options can be the difference in whether they get a deal over the line or not.
One thing we have been trying to speed up is the proposal creation process – less time spent creating a proposal means less time getting a quote back. Especially in the case if the quote is from our instant quote marketplace.
The 'My Templates' feature was created with exactly this aim in mind!
My Templates
Surer users can now create proposal templates that they can reuse over and over again – this is especially useful if you are an intermediary who creates a lot of proposals with the SAME information but for different clients.
For example, if your proposal for a Foreign Domestic Worker Insurance product is always created with the same few variations of risk and sums insured, instead of always having to repeat the process of selecting the same options every time you create a new proposal, you can now just create them off a template that you create ONCE!
Here are a couple of video tutorials to give you a view of how this feature works…
Creating a template from scratch
This video shows you how you can create a brand new template from scratch
Creating a template from a previous policy
Already closed a deal previously and realised it is a type of proposal for a particular product that you are always repeating? Create a template from that policy!
Creating a proposal from a template 
So, you have successfully created a template. Now put it in action by creating a proposal from it! This video will show you how much quicker it is to create a proposal from a template!
Like what you see? SIGN UP FOR FREE NOW and start driving even greater efficiency you and your team's insurance business!
Are you an Insurance intermediary? Sign up for free now!
It is fuss-free. No credit card or payment required.
SIGN UP NOW
Subscribe to our Telegram channel to get the most insightful articles delivered to you automatically!
Join Telegram