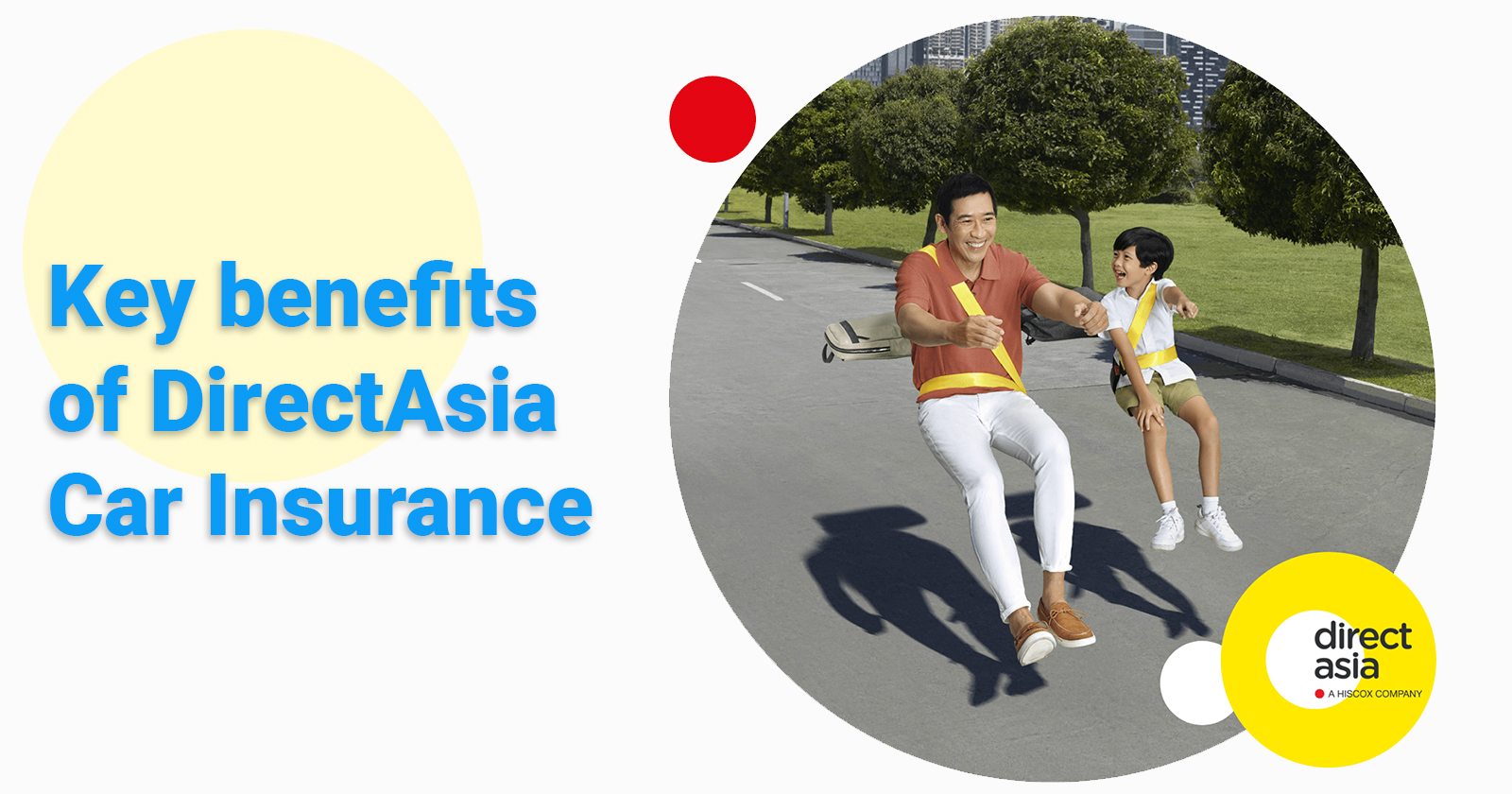 With the Surer-DirectAsia partnership, you can now customise your client's car insurance policy to every one of their needs. Choose to get your client additional protection with DirectAsia's optional benefits from 24 Hour Breakdown Assistance, NCD Protector Plus to Compensation for Loss of Use, there's always something to suit every one of your client's lifestyle.
Overview:
NCD60: First and only insurer in Singapore, to offer this benefit.
Types of Car Insurance Cover

Comprehensive
Third Party Fire & Theft (TPFT)
Third Party Only (TPO)

Customising Benefits for Each Car Insurance
Unlock the Best Value for Drivers & Usage
About NCD60
NCD, or No-Claim Discount, is a discount that is given to drivers if there is no claim from your policy for at least one year with their insurance company. This lowers the cost of the premium to be paid out the following year.
'What is NCD60' your client may ask. Essentially, if your client has held NCD50 for at least the last five (5) consecutive years, they qualify for NCD60 and an extra 10% discount on their car insurance base premium.
Take note that:
DirectAsia will validate the number of years your client have held NCD50 status, and the awarding of NCD60 with the extra discount is at their sole discretion.
For the purposes of third party records (e.g. Land Transport Authority), your client's NCD level will remain at NCD50. This extra discount and NCD60 status is exclusive to DirectAsia and for their standard motorcar policyholders only.
If your client had held NCD50 for at least the last five (5) consecutive years but have had any gap in driving record during that time (e.g. due to sale of car and hence gap in car ownership), DirectAsia reserve the sole right to decide whether or not to grant the NCD60 status.
Types of Cover
The types of cover is essentially where the base selection of your client's policy begins. This comes with the following range of options:
Comprehensive – for the greatest peace of mind
Third Party Fire & Theft (TPFT) – for a bit more than the minimum with extra options
Third Party Only (TPO) – for the least amount of cover to get you on the road
Below table is a summary of the key differences in these cover types:
| | | | |
| --- | --- | --- | --- |
| | Third-Party Only (TPO) | Comprehensive (COMP) | Third-Party Fire & Theft (TPFT) |
| | For the budget-conscious drivers. | For drivers who prefer a complete peace of mind. | For those who wish to extend beyond basic coverage to include losses due to fire and theft. |
| Injury to someone else in an accident | ✅ | ✅ | ✅ |
| Damage to someone's property in a car accident | ✅ | ✅ | ✅ |
| Legal costs & expenses following a car accident | ✅ | ✅ | ✅ |
| Damage to your car by fire | | ✅ | ✅ |
| If your car is stolen | | ✅ | ✅ |
| Damage to your car if you crash into a third-party vehicle | | ✅ | |
| Damage to your car if you crash into something besides a car | | ✅ | |
| If there is non-crash damages to your car | | ✅ | |
| Damage by flood or a natural disaster | | ✅ | |
| Damage to your windscreen or windows | | ✅ | |
Once your client has selected a cover, you can then work with them to explore how they can or want to further customise their car insurance policy by adding any additional drivers and optional benefits. They can also choose to enhance their coverage with 24-hour breakdown assistance, new for old replacement car, compensation for loss of use and more.
Customising Benefits for Each Car Insurance
As per the previous section, your client is able to enhance their car insurance with DirectAsia's list of optional benefits for each cover type. Unlike traditional car insurance covers, where everything is set in stone, DirectAsia's optional extra add-ons empower your clients with the option to tailor their car insurance policy according to their needs. The following is a breakdown of all the optional benefits available:
24 Hour Breakdown Assistance
DirectAsia will send roadside assistance to help if your car breaks down. Not applicable for Third Party Only Cover.
New for Old Replacement Car
The same make and model will be replaced if the car is stolen or suffers total loss. Only applicable for Comprehensive Cover.
Compensation for Loss of Use
Your client will get S$50 per day (max 10 days) for transport costs while the car is being repaired. Not applicable for Third Party Only Cover.
My Workshop
Your client will have their choice of workshop for any Own Damage repairs they might need for their car. Not applicable for Third Party Only Cover.
Medical Expenses
Your client will receive up to S$3,000 for themself and any passengers if injured in a car accident. Applicable for all Cover Types.
NCD Protector Plus
Protect or advance your client's NCD with NCD Protector Plus. Only applicable for NCD30, NCD40, NCD50 and NCD60. Applicable for all Cover Types.
Repatriation Costs
Your client will get reimbursed up to S$200 per person and S$3,500 for their vehicle being towed back to Singapore from West Malaysia and Southern Thailand. Not applicable for Third Party Only Cover.
Personal Accident
Your client can choose from various sum limits up to S$500,000 in case of death/loss of limbs for the driver in case of an accident. Applicable for all Cover Types.
My Accessories
DirectAsia will pay for or repair, as determined by them, covered accessories that were stolen or damaged. Depending on the different car accessories selected, the maximum sum insured can range from S$1,000 to S$5,000. Not applicable for Third Party Only Cover.
Unlock the Best Value for Drivers & Usage
Each of your client use their car differently. Simply by doing a comparison between drivers who share the car with the whole family and use it daily, with others who drive solely on weekends or off-peak times, you will see that there are more ways to determine each of your client's insurance premium.
Before we go into how you can customise the car insurance policies of your clients based on drivers and usage, here's a breakdown of the requirements:
Driver Requirements

Age & Experience
The main driver must be 2 years' driving experience & be aged 70 & below.
Driver's License
No driver has had their license suspended or cancelled in the last 5 years.
Accident & Insurance History
The driver must not have had their insurance refused or terminated and/or had 2+ at-fault claims/accidents in the last 3 years.

Usage Requirements

Commercial Usage
The car cannot be used for commercial purposes, hire or reward.
Vehicle Ownership
The policyholder must be the registered owner of the vehicle in order to be covered by a DirectAsia policy.
Vehicle Modifications
The vehicle must be registered in Singapore and any modifications it may have are LTA compliant.
Unlock more savings
Choosing the right driver and usage plan
Value Plan:
Covers up to 4 additional named drivers, 2 of which can be young and/or inexperienced drivers. The adding of additional driver is subject to additional premium charges.
Value Plus Plan:
Covers unlimited number of authorised driver who are aged 30+ with 2 years valid driving license and a maximum of 2 young and/or inexperienced named drivers.
Flexible Plan:
Any drivers are covered. There is no need to name any drivers.
Note: Experienced drivers are aged 30+ with 2 years valid driving licence. Young and/or inexperienced drivers are aged below 30 and/or with less than 2 years' valid driving licence. 
Your client actually drives less than 8,000 km a Year?
Looking for a policy that fits your client's low mileage needs? Help your client customise their policy accordingly and this will be reflected in the premium quoted. Other examples of low mileage needs could be that your client is a secondary car owner and uses their vehicle sparingly. They could also live close to work, and as such have low mileage needs.
Your client drives an Off Peak Car?
The OPC scheme and the Revised Off Peak Car (ROPC) Scheme offers new car owners the option to save on car fees and taxes, in return for reduced usage during peak hours. If your client drives an Off Peak Car, then DirectAsia takes that into account when they're calculating the car insurance premium. Please make sure you choose "Off Peak" when you're declaring information about your client's vehicle.
Other useful information
This policy is underwritten by Direct Asia Insurance (Singapore) Pte Ltd. (Company Reg. No. 201331905K). DirectAsia Insurance offers car insurance, motorcycle insurance and travel insurance. This policy is protected under the Policy Owners' Protection Scheme which is administered by the Singapore Deposit Insurance Corporation (SDIC). Coverage for your policy is automatic and no further action is required from you. For more information on the types of benefits that are covered under the scheme as well as the limits of coverage, where applicable, please contact your insurer (or name of Scheme member) or visit the GIA or SDIC web-sites (www.gia.org.sg or www.sdic.org.sg).
Are you an Insurance intermediary? Sign up for free now!
It is fuss-free. No credit card or payment required.
SIGN UP NOW
Subscribe to our Telegram channel to get the most insightful articles delivered to you automatically!
Join Telegram