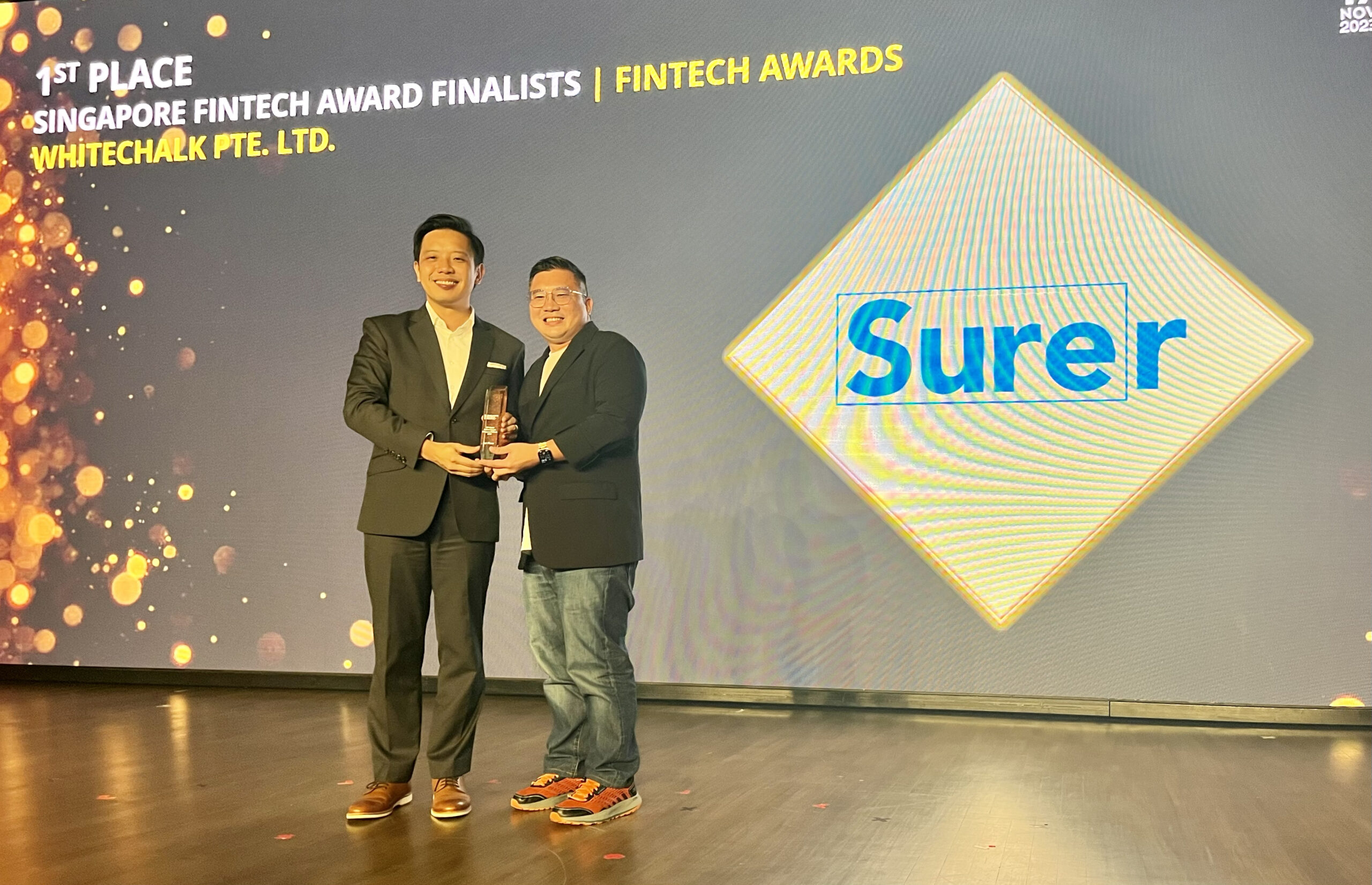 From left to right of cover image: Mr Alvin Tan, Minister of State, Ministry of Culture, Community and Youth & Ministry of Trade and Industry, presenting the award to Derren Teo, Co-founder of Surer. 
We are deeply honoured to share that Surer has won the Singapore FinTech award at the prestigious Singapore FinTech Festival Global FinTech Awards 2023!
Organised by the Monetary Authority of Singapore (MAS) and Singapore FinTech Association (SFA), the SFF Global FinTech Awards 2023 seek to recognise innovative FinTech solutions by corporates and individuals which have been instrumental in transforming FinTech industry practices, and spearheading the use of new technologies in creating new growth opportunities, promoting financial inclusion and enhancing the delivery of financial services.
The following were the 5 award categories by MAS and SFA to recognise companies whose initiatives have contributed significantly to the FinTech ecosystem.
Global FinTech
ASEAN FinTech
Singapore FinTech
Thematic ESG Award
Thematic AI Award
Derren Teo, Co-founder of Surer, said "To be selected as a finalist and be sat amongst the best of the best was in itself an honour. But to be able to come in first place was delightful yet humbling at the same time. This is a timely reminder that Surer is nothing without the support and faith of our intermediary users and insurer partners. It is with this in mind that we will not rest on our laurels but use this award win as fuel to our fire to continue to innovate to provide better solutions for the insurance industry"
Read the full announcement from MAS here.
Are you an Insurance intermediary? Sign up for free now!
It is fuss-free. No credit card or payment required.
SIGN UP NOW
Subscribe to our Telegram channel to get the most insightful articles delivered to you automatically!
Join Telegram