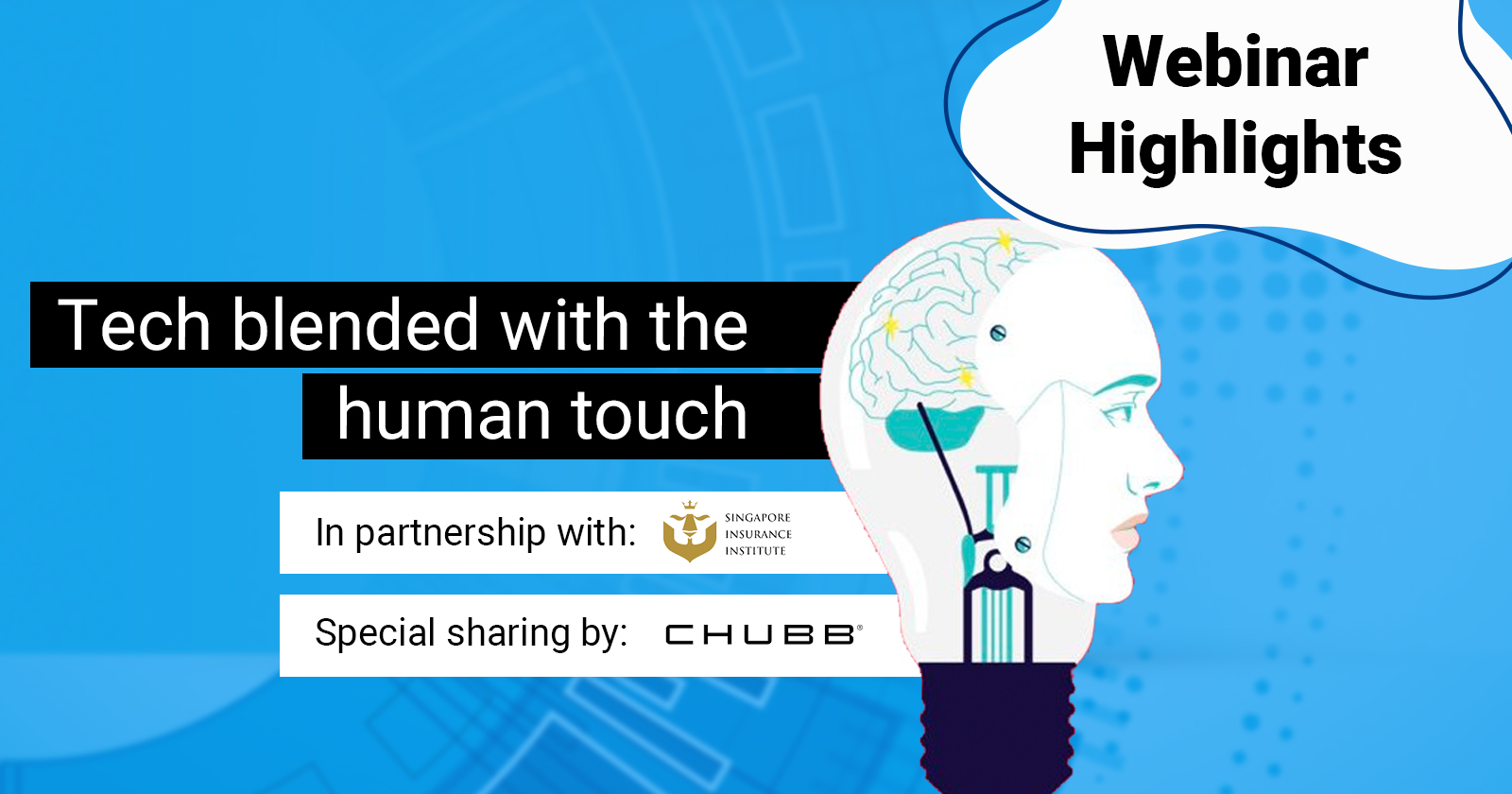 While we do this monthly, it is always so encouraging to see the attendance rate of our webinars growing!
All the more exciting given that we included a couple of bonus topics, sharing about the MAS Digital Acceleration Grant for Intermediaries and the launch of our first-of-its-kind #instantquotemarketplace built specifically for the needs of insurance intermediaries!
The session was made even more insightful with the sharing done by the team from Chubb Insurance Singapore where they shared their knowledge about home and personal accident insurance – two products now available for instant quote on our Instant Quote Marketplace feature.
Thinking of representing Chubb Insurance Singapore? Simply fill out the form below and a Chubb representative will get in touch with you!
For those who were not able to attend, fret not as this article will summarise the key points of the webinar!
Key highlights
With the theme of the webinar being 'Tech blended with the human touch', we broke the webinar down into the following key segments:
What technology cannot do
The importance of a human advisor
Little known sales prospecting stats that says a lot about the need for the human touch
Helping clients overcome fear and optimism bias 
What can tech help with in your business?
Identifying the pain points of intermediaries
The value of digital transformation
Myths about digital business productivity solutions
Soft skills that remain relevant in this digital world
Customer interaction
The human advisor
Interpersonal skills
Buyer's remorse and objection handling
We also had a bonus topic about understanding the MAS Digital Acceleration Grant for General Insurance and Life Insurance Agencies of Licensed Financial Advisers or Licensed Life Insurers
What technology cannot do
We kicked the webinar off by sharing about what technology cannot replace and some stats and reasons for this.
It was shared that especially in Commercial Insurance, In Europe 75% of complex insurance 'researched online, purchased offline' while In the US Intermediaries accounted for 70.8% of commercial premiums.
Diving deeper into this, we shared about key stats in a research where:
Majority (71%) of clients WANT to hear from a salesperson
82% of clients say they will take a meeting
67% of clients say tailored solutions will get them even more interested
>90% of clients feel a sales meeting is more valuable if you help them better understand their needs
We then shared a little about our perspective of why this could be the case – fear and optimism bias.
Optimism Bias:
Our brain is built to be optimistic as a default. We will first believe that that we are less likely to suffer from misfortune and more likely to attain success.
What has it to do with insurance?
One of the reasons why the industry always say 'insurance requires selling'. It is a built-in resistance to purchasing / or being motivated to purchase Insurance.
Fear:
The brain is trained to to be more afraid of what we can understand, rather than one that seems foreign or abstract
What has it to do with insurance?
So, how we fear or how we have learnt to 'prioritise' fear can explain some of the resistance some Insurance. How I die seems to take higher priority over dying itself.
In general, technology will not be able to replace the 'spark' to get clients to think about insurance proactively – our brain is just not tuned to WANTING insurance
What can tech help with in your business?
Before we shared about how tech can help, we worked to share some internal research to help attendees first understand where the problems are – after all, if you do not know the problem, then solutions might be futile.
Surer had identified that:
84% of intermediaries said they want to source for more quotes for clients but the process is too tedious to do so.
71% said they have problems tracking and managing their deals efficiently (close to 100% are using either spreadsheet or their emails)
56% said they have experienced communication breakdown or lost threads with key parties in a deal before
92% said they forgot to either inform or update underwriters or intermediaries of matters that are important (deal closed, gotten a quote etc.)
62% said it is hard to be an expert in every single area of a broad spectrum like GI
91% feels they are working in silos and collaboration amongst intermediaries is important
Understanding the problem to be solved is as important as providing the solution – this segment was to share just that.
It was shared that by leveraging technology to digitalise, automate and drive network collaboration, the intermediary of tomorrow can now
Be an advisor not an order taker
Clients lean on you for expert advice; someone who has our best interest at heart. Intermediaries should not be bogged down by repetitive administrative matters.
Offer Bespoke products vs packaged products
Packaged products are essentially, by design, policies built to cover a generalised representation of the risk rather than the specifics of the policyholder's business.
Allows you to adopt a client-first mindset
A product or service aims to solve a problem for a client and the client in turn, pays for this product or service. So, your first instinct should always be 'how to solve my client's problem' not 'what I want this client to buy'
Soft skills that remain relevant in this digital world

We went into the meat of the webinar at this point.
Having shared about what tech can and cannot do, we jumped into the human touch that remains important in this digital driven world.
On the Customer Interaction front, we shared that the following elements are unique to humans and cannot be replicated with tech:
Understanding context
If a client has just suffered a personal tragedy, would you end your conversation with a sign-off that says 'Cheers!'? Similarly, would you harry your clients and talk business if they are in a difficult period?
Ability for flexibility and empathy
Clients of the near future will understand that digital platforms are still 'pre programmed'. So, when they interact with a human, they expect the human to be exactly that!
Helping them understand what they need
If you have a clear idea of what you need, yes, the digital world is bountiful. However, if you do not even have a starting point, this is where the intermediary then becomes a very powerful advisor
Another point of differentiation between human and tech is, of course, Interpersonal skills. Where customer interaction is at the point of conversation, interpersonal skills can be portray proactively…
Asking for and ACT on feedback
Nothing is more valuable than feedback; if taken onboard with the right mindset. When the client takes the time to give you their feedback, be sure to set expectations and then walk the talk!
Be transparent
If an issue really happened, make sure to, explain the situation well, apologise for it, communicate how/when it will be resolved and if it is something that takes time to fully resolve and the solution provided is a temporary fix, be clear on it as well.
Be prepared to help clients, post-sale
This is where intermediaries are the most reassuring to their clients. Help the client get more clarity on the process – you will come across as a pillar of assurance that things will be okay. Help the client problem solve or help them make decisions with confidence.
This segment of the webinar closed with our speaker sharing about how, if you combine good customer interaction with interpersonal skills, what you are essentially preventing is buyer's remorse – something only a human can prevent.
MAS Digital Acceleration Grant for Intermediaries
While this had been announced a couple of weeks back, we also understand from our users that there are still a number of questions about it.
As such we took the webinar as an opportunity to share our understanding of this as well. 
Chubb Insurance Singapore sharing about Home and PA insurance
The webinar ended with the good folks from Chubb Insurance Singapore sharing knowledge about two product lines – Home and Personal Accident.
On Home insurance, a couple of stats were shared:
>55% of fires happen in the home

Source: https://www.scdf.gov.sg/home/about-us/media-room/statistics
Top 3 causes of Fire at Home are 1) Unattended Cooking 2) Discarded Items 3)Electrical

Source: https://www.scdf.gov.sg/home/about-us/media-room/statistics
The burglary and theft statistics in 2020 by police.gov.sg showed that there were >200 cases of housebreaking related crimes and >7,000 theft related crimes
Having established the importance of home insurance, it was shared with attendees that there are 3 common types of home insurance:
HDB Homes

Private apartments or homes with Strata Title, i.e. Condo

Landed homes or private property without Strata Title
With these insurance, there are two parts to coverage:
Building & Structural Coverage

Flat owners with HDB loans starting after 1994 must join the HDB Fire Insurance Scheme, which covers the building and its structures
The Management Corporation (MC) of your strata titled development is responsible for insuring the buildings and common property for fire damage
An add-on will be for fire insurance for your building

Home contents insurance

Covers your home contents including furniture, renovations as well as personal belongings against loss and damage from perils like fire, flood, burglary & theft
May provide extra cover like alternative accommodation expenses or loss of rent when your home becomes uninhabitable
On Personal Accident insurance, it was shared that the general definition of this is as follow:
A personal accident insurance policy is a type of general insurance that provides benefits in the case of accidental death, disability and injury. The benefits usually cover all phases of suffering an accident, from evacuation to hospitalisation and treatment, rehabilitation and recovery.
The team also shared some quick tips for intermediaries to share with their clients:
Tip #1: If you lack life insurance, opt for higher coverage
Tip #2: If you're worried about loss of income while recovering, opt for income benefit
Tip #3: If your work is high risk, pair your personal accident plan with a term plan
Tip #4: If you're approaching retirement, opt for mobility aids and fall prevention
—
Thank you to all attendees who joined!
Repeating the bad joke we shared at the webinar… 'we hope you have good takeaways since dining-in is not allowed for now'!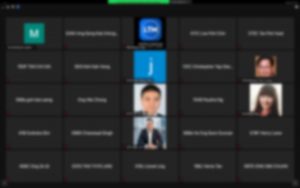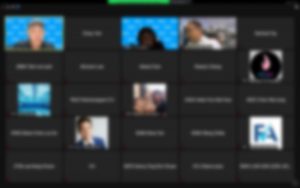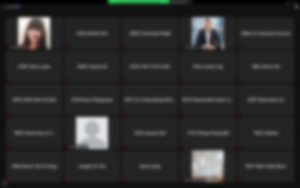 Stay tuned to our Facebook or LinkedIn pages to get updates on more of such initiatives!
—
For those who have attended and have questions with regards to CPD Hours, here's a quick list of FAQ:
Question 1:
What is the process like for me to get my certificate of attendance?
Answer:
You will first have to RSVP via the form above with the details indicated. Upon the start of the webinar, you will be required to identify yourself by changing your Zoom username to show the first 4 digit of your NRIC along with your full name. Your attendance will be marked if you stay for the full duration of the webinar. We will then share the attendance list with Singapore Insurance Institute (SII) for verification. We will then share your certification of attendance with you via email. This whole process will take between 5 – 10 business days (after the webinar is concluded).
Question 2:
What if I am only able to join for a portion of the duration of the webinar? Would I be eligible for the certificate of attendance?
Answer:
No. To obtain a certificate of attendance, all attendees need to be present for the full duration of the webinar.
Question 3:
Is the CPD hours only applicable to General Insurance agents?
Answer:
Yes. CPD hours is only applicable to general insurance agents only and regardless of your principals. After the training/webinar, a certification of attendance will be emailed to the eligible attendee with the CPD hours endorsed and awarded by the Singapore Insurance Institute. You can then submit this certification of attendance to your principal to clock the CPD hours.
Question 4: If I am a life agent and have a General Insurance license as well, would I be eligible to clock CPD hours from this webinar for my General Insurance license?
Answer:
Yes.
Are you an Insurance intermediary? Sign up for free now!
It is fuss-free. No credit card or payment required.
SIGN UP NOW
Subscribe to our Telegram channel to get the most insightful articles delivered to you automatically!
Join Telegram